Hugh Masekela & Larry Willis — Friends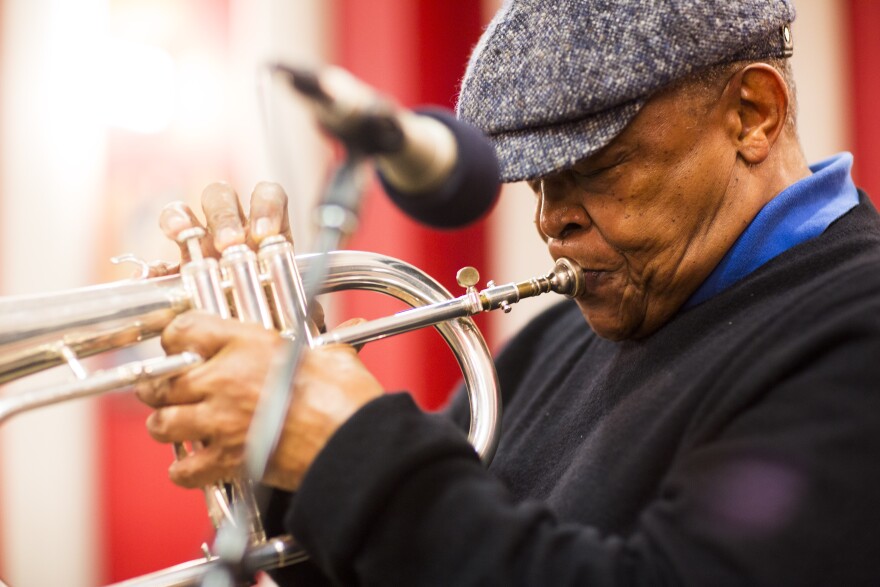 Hugh Masekela is a man of many facets. He's one of the world's most famous jazz trumpet/flugelhorn players. He's also a singer, composer, political activist and (probably most germane to what you're about to hear) a wonderful, witty and wise story-teller.
On his latest tour with his old friend and jazz pianist, Larry Willis, the two of them honored us with one of the most delightful studio sessions we can remember. They were in town to perform selections from their boxed set of duo recordings called "Friends". After opening the show with a traditional African song called "Abangoma", Mr. Masekela began to spin a web of stories, spurred on by interviewer and jazz host, Abe Beeson. Among many other things, Masekela talks about his musical coming-of-age in South Africa, his further coming-of-age in the New York jazz scene of the 1960s, his accidental hit record, "Grazing In The Grass", the incalculable importance of Louis Armstrong and, in general, a rich life which he continues to live to the fullest. There is great joy here. Partake of it.
Songs:
Abangoma
When It's Sleepy-Time Down South
Cantaloupe Island
https://youtu.be/AHK","_id":"0000017a-8d1c-d4f4-a97b-af3f9ee20001","_type":"035d81d3-5be2-3ed2-bc8a-6da208e0d9e2"}">https://youtu.be/AHK-6KJeZ9A" style="background-color: transparent; margin: 0px; padding: 0px; border: 0px; font-size: 11px; color: rgb(22, 122, 198); cursor: pointer; font-family: Roboto, arial, sans-serif; line-height: 14.300000190734863px;" target="_blank">https://youtu.be/AHK","_id":"0000017a-8d1c-d4f4-a97b-af3f9ee20001","_type":"035d81d3-5be2-3ed2-bc8a-6da208e0d9e2"}">https://youtu.be/AHK-6KJeZ9A
https://youtu.be/p9kPNJuV","_id":"0000017a-8d1c-d4f4-a97b-af3f9ee20005","_type":"035d81d3-5be2-3ed2-bc8a-6da208e0d9e2"}">https://youtu.be/p9kPNJuV-oI" style="margin: 0px; padding: 0px; border: 0px; font-size: 11px; background-color: transparent; color: rgb(22, 122, 198); cursor: pointer; font-family: Roboto, arial, sans-serif; line-height: 14.300000190734863px;" target="_blank">https://youtu.be/p9kPNJuV","_id":"0000017a-8d1c-d4f4-a97b-af3f9ee20005","_type":"035d81d3-5be2-3ed2-bc8a-6da208e0d9e2"}">https://youtu.be/p9kPNJuV-oI
https://youtu.be/e6U6KWXesvo","_id":"0000017a-8d1c-d4f4-a97b-af3f9ee20009","_type":"035d81d3-5be2-3ed2-bc8a-6da208e0d9e2"}">https://youtu.be/e6U6KWXesvo" style="margin: 0px; padding: 0px; border: 0px; font-size: 11px; background-color: transparent; color: rgb(22, 122, 198); cursor: pointer; font-family: Roboto, arial, sans-serif; line-height: 14.300000190734863px;" target="_blank">https://youtu.be/e6U6KWXesvo","_id":"0000017a-8d1c-d4f4-a97b-af3f9ee20009","_type":"035d81d3-5be2-3ed2-bc8a-6da208e0d9e2"}">https://youtu.be/e6U6KWXesvo