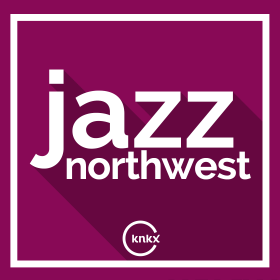 Sundays at 2PM
Jazz Northwest focuses on the regional jazz scene from Portland to Vancouver. CDs by the best resident musicians from Seattle, Portland and Vancouver are featured, and the program also includes news about the best places to go for live jazz in the region. In addition, Jim goes "on location" to concerts, clubs and jazz festivals to record performances by resident and visiting artists for playback on Jazz Northwest. These one-of-a-kind recordings are available nowhere else!
Host Jim Wilke is a professional recording engineer and writer in addition to his radio programs which include "Jazz After Hours" on Public Radio International, heard nationwide since 1984.
Recent releases by Ben Thomas, Rich Pellegrin and Kelly Eisenhour will be featured on today on Jazz Northwest.

The second show of highlights from a two piano concert by Bill Anschell and Francesco Crosara will air today on Jazz Northwest.

Bill Anschell and Francesco Crosara play two restored Steinways from the 1920s from the collection at Stage 7 Pianos. in this show, they're playing music by Chick Corea, Francesco Crosara and Duke Ellington.

This week's show begins with the Jill Townsend Big Band from Vancouver B.C. playing music by the late saxophonist Ross Taggart, then we dip down to Portland for a trio with John Gross and Dave Frishberg and Charlie Doggett. We'll have Seattle guitarist Marco de Carvalho, revisit The Evergreen Classic Jazz Band and hear favorites by Oregon and Ernestine Anderson.

The late Bob Hammer was a highly regarded bi-coastal arranger and pianist who spent his last years in Seattle. On today's episode of Jazz Northwest, we'll hear some of his arrangements of the music of Charles Mingus, whose centennial is being celebrated this month.

Scott Robinson is well known as a saxophonist playing the entire family of saxes from contrabass to sopranino. Recently it's his baritone sax with Maria Schneider Orchestra as well as Bob Brookmeyer, Toshiko Akiyoshi and others that attracted attention.

Jessica Williams was a unique artist with an evocative touch at the piano. She passed away March 12 at the age of 73. She was a restless person who was born in Baltimore, studied classical piano, and built her career as house pianist at Keystone Korner in San Francisco where she backed many different international soloists including Dexter Gordon and Stan Getz.

Jovino Santos Neto played his most recent solo piano album "Luz" in one continuous session, like a live performance. It's a very enjoyable set and it engages the listener like an actual concert.

This week on Jazz Northwest, Vancouver flutist Tom Keenlyside debuts a new CD remembering an all-night coffeehouse where he found his love for jazz.

Pianist Kenny Barron is no stranger to Seattle stages. He first appeared here in 1963 as a nineteen-year-old pianist with the Dizzy Gillespie Quintet at The Penthouse in Pioneer Square. Now an NEA Jazz Master, Kenny Barron brings his trio to play Jazz Alley next Tuesday and Wednesday and we'll hear the trio on today's episode.