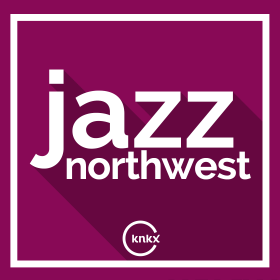 Sundays at 2PM
Jazz Northwest focuses on the regional jazz scene from Portland to Vancouver. CDs by the best resident musicians from Seattle, Portland and Vancouver are featured, and the program also includes news about the best places to go for live jazz in the region. In addition, Jim goes "on location" to concerts, clubs and jazz festivals to record performances by resident and visiting artists for playback on Jazz Northwest. These one-of-a-kind recordings are available nowhere else!
Host Jim Wilke is a professional recording engineer and writer in addition to his radio programs which include "Jazz After Hours" on Public Radio International, heard nationwide since 1984.
Every Sunday afternoon we feature some of the outstanding jazz artists who've graced our scene in Seattle and the Pacific Northwest. This week includes one of Ernestine Anderson's last recordings in front of a New York audience at Dizzy's Club.

Twelve of the 17-member Roosevelt Jazz Band were graduating Seniors this year, and it was also the last year for director Scott Brown who has led the multi award winning RHS Jazz Band for 38 years and retired after this concert.

Featured on this week's episode is the Captain Black Big band, led by pianist and composer Orrin Evans, who brings his New York-based big band to the Pacific Northwest for three performances next week.

German born composer arranger and trumpet/flugelhorn player Oliver Groenewald now makes his home on Orcas Island, but he led his NewNet in an excellent CD featuring Jay Thomas in 2018. Music from that album "I Always Knew" leads off today's episode, followed by the Dave Robbins Sextet from Vancouver BC, and the Rebecca Kilgore Trio from Portland, demonstrating the rich variety of Jazz talent in the Pacific Northwest.

On this show we showcase some original compositions featuring string ensembles. The new John Stowell/Dave Glenn album features the guitarist and trombonist alternating with original music for string quartet inspired by Stowell's compositions. Also, music conceived for a string orchestra by the late Jim Knapp is played by his chamber orchestra, Scrape.

Recent releases by Ben Thomas, Rich Pellegrin and Kelly Eisenhour will be featured on today on Jazz Northwest.

The second show of highlights from a two piano concert by Bill Anschell and Francesco Crosara will air today on Jazz Northwest.

Bill Anschell and Francesco Crosara play two restored Steinways from the 1920s from the collection at Stage 7 Pianos. in this show, they're playing music by Chick Corea, Francesco Crosara and Duke Ellington.

This week's show begins with the Jill Townsend Big Band from Vancouver B.C. playing music by the late saxophonist Ross Taggart, then we dip down to Portland for a trio with John Gross and Dave Frishberg and Charlie Doggett. We'll have Seattle guitarist Marco de Carvalho, revisit The Evergreen Classic Jazz Band and hear favorites by Oregon and Ernestine Anderson.

The late Bob Hammer was a highly regarded bi-coastal arranger and pianist who spent his last years in Seattle. On today's episode of Jazz Northwest, we'll hear some of his arrangements of the music of Charles Mingus, whose centennial is being celebrated this month.