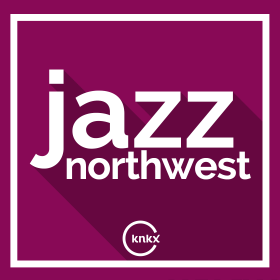 Sundays at 2PM
Jazz Northwest focuses on the regional jazz scene from Portland to Vancouver. CDs by the best resident musicians from Seattle, Portland and Vancouver are featured, and the program also includes news about the best places to go for live jazz in the region. In addition, Jim goes "on location" to concerts, clubs and jazz festivals to record performances by resident and visiting artists for playback on Jazz Northwest. These one-of-a-kind recordings are available nowhere else!
Host Jim Wilke is a professional recording engineer and writer in addition to his radio programs which include "Jazz After Hours" on Public Radio International, heard nationwide since 1984.
Jim Knapp was an influential musician, teacher, mentor and friend to many on the Seattle Jazz scene almost from his arrival in Seattle in 1969. After a long and fruitful career, Jim Knapp passed away on November 13.

Pianist and composer Horace Silver composed dozens of tunes popularized by his own groups on more than 40 albums over six decades. Many of his compositions have become jazz standards, and Michael Brockman assembled a concert program of "pieces of Silver" which have been arranged for big band.

The 2021 Earshot Jazz Festival moves into its final week and some of the artists appearing will be sampled on today's episode of Jazz Northwest. Listen to saxophonist Mark Lewis, pianist Benny Green, pianist-composer Ann Reynolds, vocal artist Jay Clayton, and the Seattle Repertory Jazz Orchestra.

This week's edition of Jazz Northwest opens with a pair of selections from the 70s by the Great Excelsior Jazz Band featuring Ken Wiley on trombone.

Red Kelly's Sextet playing a night at Parnell's in Seattle in 1981 will be featured on today's episode of Jazz Northwest. Recorded in the Pioneer Square jazz club for promotional purposes, Red Kelly's sextet swings hard through two Ellington-inspired pieces, "Don't Get Around Much Anymore" and "Castle Rock."

The annual Earshot Jazz Festival begins next Wednesday with dozens of events including live performances and streamed music, film, video watch parties, and conversations. In today's episode of Jazz Northwest, we'll hear 3 artists appearing in the first week including the Festival Resident Artist, Marina Albero, and singer Eugenie Jones and saxophonist Kareem Kandi.

The regional jazz scene is cranking up for Fall, with the new Calluna jazz club, the Bellevue Jazz and Blues Series next week, and The Earshot Jazz Festival starting the week after that.

Selections from a new release by trumpeter Jared Hall will debut today on Jazz Northwest. Jared Hall is a relatively recent arrival on the Northwest jazz scene, and this album will go far to establish his credentials here. Also on this week's show is Paquito D'Rivera who blends jazz and classical music with humor, he'll be at Jazz Alley next week. Jovino Santos Neto plays solo piano in an original piece from his new album and we'll highlight a reviving jazz scene as more live jazz is becoming available.

In this week's episode, we feature samples of upcoming jazz events, such as The Cookers who will be performing at Jazz Alley in Seattle next Tuesday, Sept 21, and Wednesday, Sept 22.

As it often does, music on this week's episode ranges from Vancouver, B.C. to Portland, Ore., with Cory Weeds in Vancouver, and Randy Porter and Nancy King in Portland. We also have Jay Thomas with a tenor and tuba version of a Monk tune, and a pretty ballad composed by Primo Kim to feature Bill Ramsay's alto sax. There's more of course, plus suggestions for best opportunities to catch some live jazz around the Seattle area including a new venue for music.