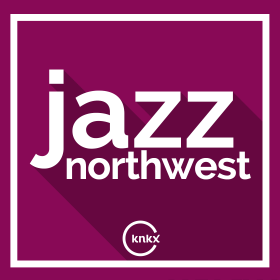 Sundays at 2PM
Jazz Northwest focuses on the regional jazz scene from Portland to Vancouver. CDs by the best resident musicians from Seattle, Portland and Vancouver are featured, and the program also includes news about the best places to go for live jazz in the region. In addition, Jim goes "on location" to concerts, clubs and jazz festivals to record performances by resident and visiting artists for playback on Jazz Northwest. These one-of-a-kind recordings are available nowhere else!
Host Jim Wilke is a professional recording engineer and writer in addition to his radio programs which include "Jazz After Hours" on Public Radio International, heard nationwide since 1984.
On today's episode of Jazz Northwest, we'll preview some upcoming performances by Bill Anschell, The Roosevelt Jazz Band, Kelly Eisenhour, Brent Jensen and Ben Thomas. Also featured this week, a jazz classic by Warren Rand and Dave Frishberg and two songs by the late Joni Metcalf.

One of the major personalities on the Seattle jazz scene from the '50s through the '80s, Joni Metcalf was a pianist, singer, composer and teacher. Metcalf passed away earlier this month at age 91. We'll remember her singing, playing piano and performing some of her original music on this episode of Jazz Northwest.

Ernestine Anderson made her home in Seattle and the city gladly claimed the world renown singer as her own. Although she passed in 2016, she is fondly remembered around her November birthday by her many friends and fans. Accordingly, Jazz Northwest will feature a couple of her songs that illustrate her range on this week's show.

It's past being controversial by now, but the first "Jazz and Strings" albums were not always warmly received. Some regarded it as "selling out" to commercial interests, but in many cases, it was the artists themselves who fought for the opportunity to record with a string orchestra - think Nat King Cole, Charlie Parker, and Billie Holiday.

Portland based Owen Broder brings his group to the Earshot Jazz Festival next Thursday at The Royal Room. The Portland-based Broder teaches at Portland State University and Pacific University. His new album celebrating Ellington's great lead altoist Johnny Hodges will be featured in two selections on this episode of Jazz Northwest.

Diachun hails from Nelson, British Columbia and is often heard performing in Vancouver, B.C. and Victoria, B.C. The new album features twelve songs by Sting and was recorded this earlier this year in Vancouver. "Russians," dating from the Cold War years, is included for its sense of timeliness again.

Chuck Deardorf passed last Sunday at the age of 68 cue to complications from COVID-19. He was an active and versatile bassist as well as an educator and administrator. He had headed the jazz program at Cornish College and was on the faculty of Jazz Port Townsend workshops.

Jim Wilke debuts singer and songwriter Casey MacGill's new album "Love Letters." We also hear a selection of the Earshot Jazz Festival featuring artists Alex Dugdale, Johnaye Kendrick and Kurt Rosenwinkel.

Pianist Overton Berry was a popular figure on the Seattle music scene for over 50 years. Diane Schuur, Bruce Phares and other friends pay tribute to the late pianist in the opening concert of this year's Earshot Jazz Festival.

The concluding evening concert from this year's Jazz Port Townsend will air this week on Jazz Northwest. This concert brought together eight renown jazz musicians who were also on the faculty of the Jazz Workshop which preceded the festival the last week of July.