King County Sheriff's Office to pay $5M in 2017 death of Tommy Le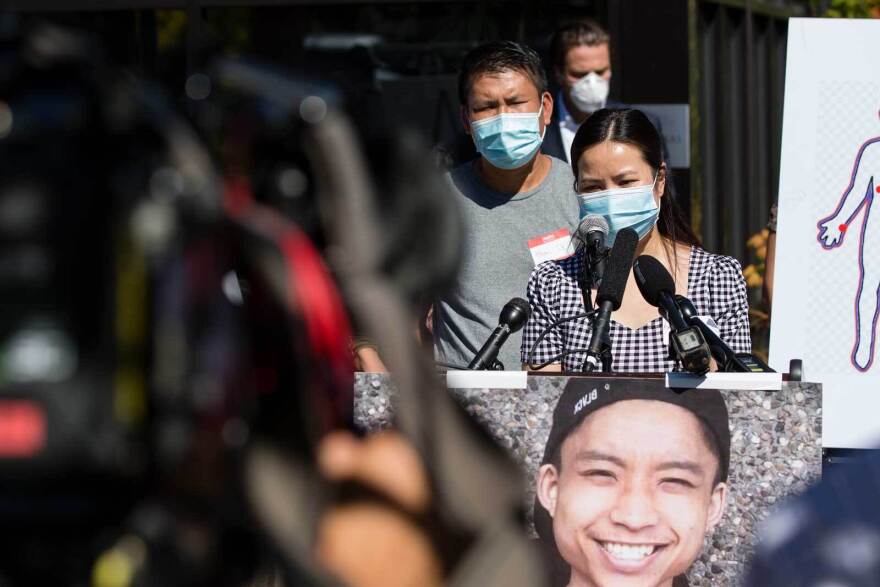 The family of Tommy Le has dropped a lawsuit filed against the King County deputy who shot and killed him in Burien in 2017 and has reached a $5 million settlement with the sheriff's office.
At a news conference Wednesday, the family's attorney, Jeff Campiche, said that while the settlement is a victory for justice for Tommy Le, change still needs to happen with law enforcement.
"That's the reason our streets are full of our citizens demanding transparency, accountability and reform in the police department," Campiche said.
The death of Le sparked outrage in the community. It also was criticized by policing experts over the circumstances of Le's death and for the questionable investigation that followed.
On June 13, 2017, deputies were responding to a report of a disoriented man, possibly armed with a knife or sharp object. Deputy Cesar Molina was the third deputy to arrive and, according to his sworn deposition and court documents, confronted and shot Le after he and another deputy failed to incapacitate him with a stun gun.
The King County sheriff's Office initially reported Le had attacked deputies with a knife or sharp object and was shot in self-defense. However, an investigation later found 20-year-old Le was carrying a ballpoint pen.
An autopsy showed Le was shot twice in the back and once in the wrist, court records said.
Le's father, Hoai "Sunny" Le, also spoke at the press conference and said that the family still grieves and no amount of money can bring his son back.
"There is still pain in our family every day," he said. "I want my son back."
King County Councilmember Joe McDermott, who represents the district where Le lived, released a statement Wednesday afternoon regarding the settlement.
"The painful loss of Tommy's life cannot be made right, but I hope the conclusion of this particular legal process might allow his family to move toward some peace," McDermott said. "Tommy's killing shed a bright and tragic light on the need for accountability and reform in the King County Sheriff's Office and how we envision providing safety within our communities. I'll continue to hold Tommy's memory close as we move forward with implementing the reform of the sheriff's office that King County voters demanded last November."
A statement Wednesday from Sgt. Tim Meyer, a spokesperson with the King County Sheriff's Office, said the sheriff's office "was ready and willing to try this case in a court of law. Although the parties do not agree on the fundamental facts of this case, we are pleased this settlement will allow everyone to avoid a difficult, and likely painful, trial."
The Associated Press contributed to this report.