'I just want answers.' Turmoil looms over Pierce County's medical examiner.
Nina Summerrise and her husband, Robin, hold a picture of Summerrise's son, Ian Sherls, whose body was found in a well in the ground at Tacoma's Swan Creek Park. They want responses to unanswered questions from Pierce County Medical Examiner Thomas Clark.
Parker Miles Blohm / KNKX
Ian Sherls' body was found in an abandoned well in Swan Creek Park in East Tacoma.
Parker Miles Blohm / KNKX
This story was reported by digital content manager Kari Plog and South Sound reporter Will James, and written by Plog.
Nina Summerrise tried to stay positive when a friend alerted her of the news reports: a body wedged deep in an abandoned well discovered in Tacoma's Swan Creek Park.
Summerrise knew those East Side woods. So did her son, 41-year-old Ian Sherls, who went missing a month earlier. His car was found just outside the park where he used to run, sometimes with his mom.
Summerrise hoped for the best, but feared the worst.
Her fear was realized.
It took days to retrieve Sherls' body — found submerged in water 10 to 15 feet down the cement pipe located on a steep, heavily wooded hillside. But it took just hours for the Pierce County medical examiner to rule his death a suicide. The office's report cites foreboding statements Sherls made the day he went missing.
"Things got vague to me at that point," Summerrise said. "I have all these puzzle pieces but they're not fitting together."
Summerrise started asking questions. It never made sense to her that her son would choose to drown himself in a 20-inch pipe in the ground that even park officials didn't know existed. A man who never went a day without talking to his mother left no note. His cellphone was found on his head. Later, she learned his debit card had been used at a nearby gas station — hours after the time of his death.
Despite these puzzling details, she received few answers. Summerrise says she felt dismissed, as though the medical examiner saw Sherls as a black man struggling with meth addiction whose death wasn't worth deeper investigation.
"With all of that, it's easy to just brush your hands and say, 'Yup, we'll call it suicide and be done with it,' instead of really looking into what happened here," she said. "Honestly, I just want answers. I want to know what happened to my son. If people didn't do their jobs, I want them held accountable for that."
I just want answers. I want to know what happened to my son. If people didn't do their jobs, I want them held accountable for that.
MOUNTING COMPLAINTS
Summerrise isn't the only one questioning the practices of Pierce County Medical Examiner Thomas Clark. He's at the center of several complaints, filed by nine current and former employees who say he's unfit to lead the department.
The complaints cite a laundry list of professional violations, including altering death certificates and mismanaging evidence. They also claim Clark maintains a toxic work environment, an accusation that first surfaced in another investigation in 2016.
Clark, through his attorney Jack Connelly, denied the initial round of allegations. Connelly called them "fabricated" and "vindictive." KNKX Public Radio made repeated attempts to contact Clark after more allegations surfaced. He declined to comment through a spokeswoman.
"Any allegation of poor performance or judgment by any member of the Medical Examiner's office is of great concern," county spokeswoman Libby Catalinich said. "We are committed to a fair and thorough investigation, which is currently underway. We will be able to discuss this situation in more detail once that investigation has been completed and appropriate decisions have been made."
Clark, a medical doctor and Pierce County's highest-paid employee, has been at the helm for nearly a decade. He's perhaps best known for honoring people whose remains go unclaimed at an annual burial-at-sea ceremony, a tradition he started several years ago. His primary role is to perform autopsies and oversee investigations into hundreds of deaths each year in Washington's second-largest county. His determinations about how people died can guide criminal investigations and court cases, affect life insurance payouts, and shape public health statistics.
KNKX Public Radio has reviewed more than 1,500 pages of county documents, including copies of current and past complaints against Clark. Reporters also talked with several sources connected to the office, who independently expressed alarm about the chief medical examiner's behavior. Among them are his former second-in-command and a current death investigator, who both say keeping Clark in charge after the first investigation into his conduct has hurt the credibility of the office and the profession as a whole.
Turmoil in the office escalated in January, when Megan Quinn filed a whistleblower complaint just six months into her job as associate medical examiner.
Quinn was placed on administrative leave several weeks after filing a second complaint against her boss, which is under investigation by the state Medical Commission. She claims the county's action is retaliation for publicly criticizing Clark. The county denies that. Both employees are under internal investigation, but Clark remains on the job.
In her first few months with Pierce County, Quinn says Clark mistreated staff, made inappropriate comments about decedents in the county's care and took positions on cases in an apparent attempt to contradict other professionals, including doctors and police.
"It doesn't seem to have any rhyme or reason," Quinn told KNKX. "It is about him. And it's about arrogance. I think it's about power and control and there is absolutely no place for power and control in what we do."
She says Clark insists on having no contact with family members of decedents, and sometimes seems to make up his mind about death determinations before completing investigations.
Quinn also says Clark can approach cases with too much certainty, even when the facts are ambiguous and could warrant more investigation.
"He also has said to me that he considers 'undetermined' (rulings) to be weak," she said, referring to a classification for deaths that cannot clearly be ruled accidents, homicides, suicides or natural. "There are times when using the manner 'undetermined' is actually the responsible thing to do."
Other staff members underscore Quinn's concerns.
In February, seven of them – including several death investigators – filed a union grievance with Pierce County outlining a list of complaints about Clark.
They accused their boss of performing a disproportionate number of external-only exams, resulting in conclusions that aren't backed up by decedents' medical histories. They also say he orders staff to selectively X-ray or photograph bodies, excluding details that don't support his findings.
And they also claim Clark refuses to talk to family members of decedents, forcing staff without medical degrees to interpret exam results and death certificates, as well as causing families to "question the medical validity" due to a lack of relevant information.
Jill Lombardi, one of the death investigators who signed onto the grievance, said her colleagues have been forced to turn family members away in lieu of providing them answers to basic questions about determinations.
"The public does not trust us to do our jobs," she said. "And I don't blame them."
Lombardi said Quinn's whistleblower complaint opened the door for her to share concerns she's harbored over the past two years. When the 2016 investigation into Clark resulted in "a token slap on the wrist," she said, medical examiner staff felt abandoned.
"He was left there and nothing has changed," Lombardi said.
The mounting concerns, Quinn and others say, call into question the credibility of the Pierce County Medical Examiner's Office and undermine its important work.
"People want and expect and should trust that they're going to get answers," Quinn said. "What I see happening is repeated, and at times intentional, compromise of that."
THE LAST STRAW
News of the internal complaints compelled Summerrise to come forward about her own concerns surrounding her son's death investigation. She's among a growing number of people who have spoken out since internal scrutiny of Clark became public.
Since Quinn's first complaint was filed, KNKX has learned about two other cases that left families with questions. One involved a young Puyallup woman who was found in her bedroom with her throat slashed by a mirror shard, documents show. Another dealt with a Puyallup teenager who fell from a highway overpass; evidence shows he may have been fooling around at the edge.
In both cases, Clark ruled the deaths suicides. Family members have demanded explanations, given unusual circumstances in each case.
And Pierce County Prosecutor Mary Robnett is reviewing another case, in which a death determination by Clark resulted in a dropped murder charge.
Stephen Gale, 52, died in the yard of his Steilacoom home July 4, 2017, after a physical altercation with his girlfriend's son, 23-year-old Tyler James Thiel. Thiel was arrested and charged with second-degree murder for the beating, but the charge was dropped after Clark ruled the manner of death "undetermined."
Robnett said in a statement earlier this month that her office is reviewing the case at the request of the Steilacoom Department of Public Safety.
Quinn says the last straw for her came in January following a suspicious infant death, an investigation she says was mismanaged. She detailed the case in her whistleblower complaint.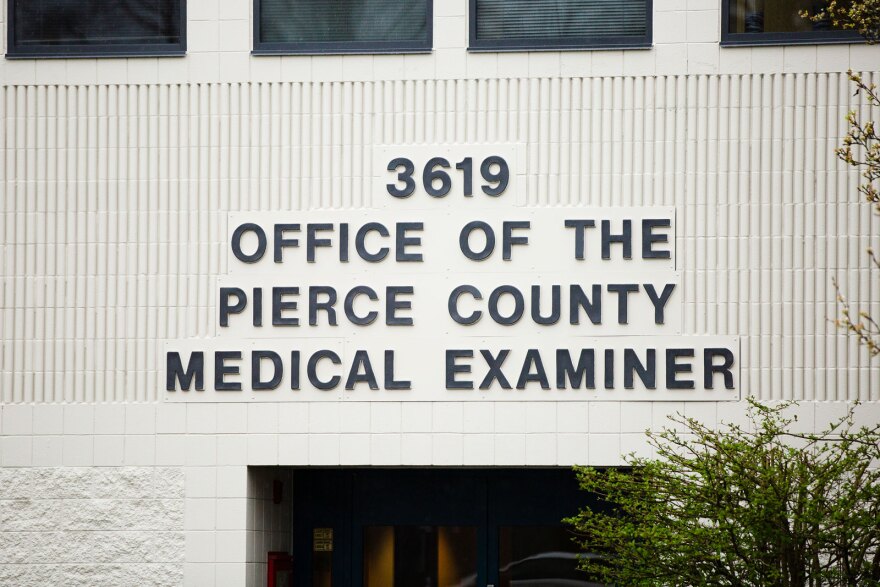 The 15-month-old girl was admitted to a local hospital with visible bruises and evidence of possible inflicted trauma, according to documents.
At least four pediatric specialists expressed alarm, Quinn said; Clark didn't speak with any of them. Quinn stressed to Clark that the case warranted a higher level of investigation. Instead, she says, he downplayed the case to a detective and framed the information from hospital staff in a way that was easier to dismiss. Quinn added that Clark seemed "agitated" because other officials were weighing in on the case.
"It's not our job to figure out who did it," Quinn said. "Thankfully that's somebody else's job. Our job is to document the findings that we see at autopsy, and our job is also to interpret the information that comes from all of these other sources."
Ignoring experts who fear possible abuse can result in "medical malpractice," Quinn stressed.
"You get that person on the phone. It's part of your job," she said. "You cannot do a forensic investigation in a vacuum and come up with a cause and manner of death."
A Federal Way Police spokesman said the case remains open as officers await the Pierce County medical examiner's cause-of-death determination. It will inform how the case proceeds, the spokesman said.
One expert, a paid consultant who reviewed cases upon the request of Quinn's attorney, says the action in the infant case appears to be part of a larger pattern in Clark's office.
Thomas Andrew, a New Hampshire-based forensic pathologist, reviewed documents from this and 64 other cases. He authored a letter summarizing his assessment, which states the Pierce County Medical Examiner's Office appears to have "a pattern of suboptimal investigation and autopsy in infant and child cases reported under suspicious circumstances."
"The pattern is incomprehensible to me, as a professional," Quinn said. "It's incomprehensible to me as a mother."
Lombardi, the death investigator, said she's concerned with how often infant death investigations rely on partial autopsies. That's counter to her previous experience in Florida, she added, where every infant death investigation included a full autopsy.
"We have an obligation to do a full and complete investigation," she said.
'HURTING' THE PROFESSION
John Matthew Lacy still fears retaliation from Clark even though he's moved on to a job in Snohomish County's medical examiner office. But Lacy, like Quinn, says he can't remain silent anymore.
"It's the right thing to do," he said. "He's hurting my profession."
Lacy, the associate medical examiner before Quinn, worked under Clark for five years. He observed many of the same behaviors described by his successor.
"I think that, in most cases, he knows what he's going to call the case before he leaves the morning meeting," Lacy said. And if you challenge him on a case, he added, "he just digs in."
I think that, in most cases, he knows what he's going to call the case before he leaves the morning meeting.
Lacy also said Clark seemed to shy away from "undetermined" rulings, reiterating Quinn's claim that the chief medical examiner finds them weak. "I think he sees it as a failure to step up and take a stance," Lacy said.
Lacy says he ultimately left his previous job over what he saw as a troubling pattern in Clark's behavior.
"I never saw him express any empathy for anybody in the five years I was there," Lacy said. "It was such a bleak feeling."
In the cases reviewed by KNKX Public Radio, family members say they were left feeling dismissed in the worst moments of their lives. Quinn says the treatment she's witnessed in these cases and others is counter to the core tenets of the job.
"It is not only a disservice to our community in terms of public health, but it's an egregious disservice to the family," Quinn said. "That is an abuse of your power."
Lacy and Quinn say the lack of empathy extends beyond family members of decedents to the decedents themselves.
Both say they have observed Clark openly express biases against obese and homeless people, for example, at times resulting in less investigation and hastier conclusions.
"He'll sit at the morning meeting and say, 'OK, so we just have two drug addicts and two fat people, is that right?'" Quinn said. "Very dismissive."
He'll sit at the morning meeting and say, 'OK, so we just have two drug addicts and two fat people, is that right?'
Lacy said it's unacceptable that his former boss still holds such an important role. Last year alone, Clark ushered more than 1,300 death investigations, resulting in 415 autopsies and 310 inspections, or external-only exams.
"I don't know who I'm more mad at," Lacy said. "Dr. Clark, or Pierce County."
SEARCHING FOR CLOSURE
Nina Summerrise searched for the cement well just days after her son's body was recovered there in November — she had to see it for herself.
Earlier this month, she went back into the woods at Swan Creek Park searching for it again.
Police tape still dangled from the trees. She removed the well's makeshift wooden cover to peer inside.
Gazing into the dark, mossy pipe a second time, she still struggled to make sense of her son's death.
"Even though I was told he didn't suffer," Summerrise said, "I'm thinking how do you not suffer if you drowned down there?"
Summerrise continues to search for the closure she never got from Clark — closure Clark's employees, past and present, say future families deserve. But she knows there's only so much her family can learn moving forward. The scene at the well is trodden over. Her son's body is cremated. In many ways, the time for investigation has passed.
"We can't go back and undo what's already been done," she said.