Civil commitment explained: Offenders sent to McNeil can be released. But it's complicated.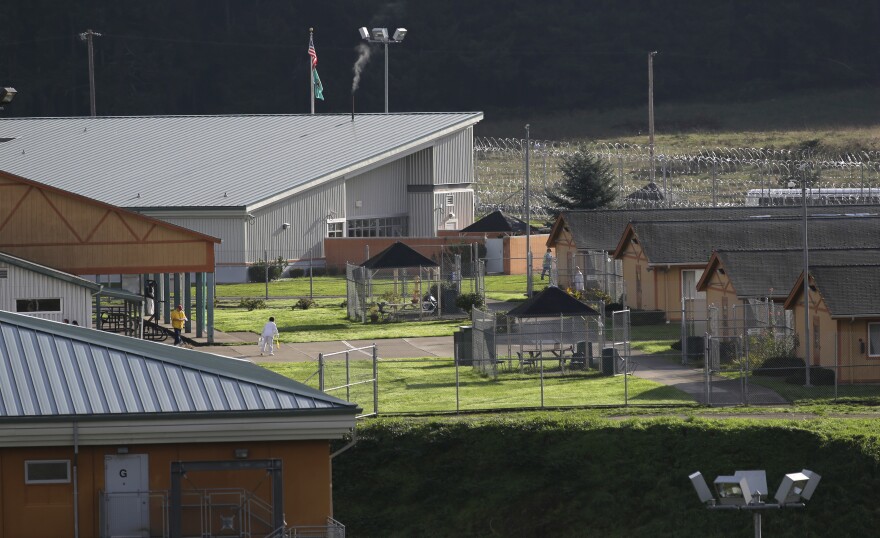 Two episodes into the Forgotten Prison podcast, we talk about a place that isn't a prison at all — at least not technically.
Still, the outside of the Special Commitment Center looks like a prison: layers of razor wire, sterile buildings, a recreation yard.
And, some could argue, the system is prison-like, too: for the most part nobody is allowed in or out — except staff, of course — and the courts decide who is confined to the island institution, under what circumstances and for how long.
But the state Department of Social and Health Services, the agency in charge of operations, insists the SCC is not a prison.
"DSHS is the first to say they are not in the business of dealing with criminals, punishment or corrections," said Simone Alicea, KNKX reporter and co-host of the station's Forgotten Prison podcast, which details stories of the SCC in "Episode 2: Not a Prison."
The center is aimed at rehabilitation for the so-called "sexually violent predators," as defined by the state. Staff members who work at the facility are unarmed, DSHS officials stress. There aren't any sally ports or signs of maximum security. And the goal for residents there is eventual release.
The latter is complicated. First, to understand how a person gets out of the SCC, it's important to understand how a person lands there.
That's up to a handful of people. Qualifying agencies, such as the Department of Corrections, make recommendations on which offenders should be committed, relying on the criteria from the state Office of the Attorney General. Then, the offenders are detained by the SCC at the completion of their prison sentences. Finally, a group of specialized public defenders litigate in the courts to determine whether those offenders do, in fact, meet the state's threshold for a sexually violent predator.
As of October 2018, 232 people were accounted for at McNeil Island's commitment center. That number included detainees who were still working their way through the commitment process, who may or may not have been formally committed.
Those who are committed remain residents indefinitely, until they successfully complete treatment or are deemed safe for conditional or unconditional release.
"You're supposed to be able to work your way through the system," Alicea said.
But that hasn't happened frequently. DSHS estimates only about 80 people have been released unconditionally from McNeil since the commitment center started managing civil commitments, under the state's Community Protection Act of 1990. In fact, nobody was unconditionally released in the center's first 16 years.
BY THE NUMBERS* 232: The number of individuals confined at the Special Commitment Center. 36: The number of individuals under DSHS supervision outside total confinement. About 80: The number of people who have been unconditionally released from McNeil Island's commitment center since it opened. 3: The number of government entities involved in the commitment center process — DSHS, DOC and the courts. *As of October 2018
Todd Bowers, deputy attorney general, cites a figure twice as high as the one cited by DSHS. But, Alicea notes, that's likely inaccurate. His count seems to include detainees who are never formally committed, and leave the island after working their way through litigation.
"So, to me, you can't count them as being released," Alicea said.
And in the rare cases when offenders are released, they are often still subject to close supervision.
"When you're talking about who's in and who's out, it's hard to define," Alicea said. "Because a normal person's idea of in and out isn't accurate with what the state says is in or out."
When you're talking about who's in and who's out, it's hard to define. Because a normal person's idea of in and out isn't accurate with what the state says is in or out.
That's because conditional release — one of the more common ways residents transition off the island — still involves DSHS monitoring, extensive treatment and a laundry list of conditions that send an offender right back to McNeil after even the slightest violation. Sometimes, being released means relocating to cottages on the commitment center's campus.
"These restrictions are pretty intense," Alicea said.
So, the line that separates the Special Commitment Center from a prison — the goal of eventual release — is arguably pretty thin.
Routinely, people committed to the SCC stay there longer than they stay in prison.
Laura McCullom, who talked to Alicea and fellow host Paula Wissel for the podcast, was incarcerated for first-degree child rape 1990-95. She's been at the commitment center since she was released from prison. McCollum is 61. She told the reporters she doesn't want to die behind McNeil's razor wire.
"Even though I understand what I did was wrong, and it was really, really bad," McCollum said, "I don't think I deserve to be stuck here and forgot about."
Opponents agree with McCollum, arguing that civil commitment punishes offenders twice. But the U.S. Supreme Court disagreed, ruling in favor of the state's process in 2001. The opinion hinges on the idea that the commitment center treats offenders, not incarcerates them.
People are still openly debating it, though. And for good reason, Alicea says.
"There are just so many questions that need to be answered about what this place is."
There are just so many questions that need to be answered about what this place is.
SCC QUICK GUIDE
Total confinement facility: This is what most people think of when they think of the Special Commitment Center. It's where offenders stay — indefinitely — once they are civilly committed, and where detainees go while they work through the civil-commitment court process. "It's the institution," Alicea said.
Unconditional release: This means a resident is released without restrictions. It occurs when a resident successfully completes treatment and/or no longer meets the criteria of "sexually violent predator."
Conditional release: This means a resident is released from total confinement, but must adhere to restrictions. This occurs when a resident has made enough progress to gain more independence, but still requires extensive supervision and treatment. If conditions are violated, the individual is sent back to the total confinement facility on the island. Violations could include disregarding geographic boundaries or consuming alcohol, for example.
Less restrictive alternative: This refers to the living arrangement for residents who are conditionally released. These alternatives are heavily supervised by DSHS. "These people are highly supervised, and it doesn't take much for them to get sent back to the island," Alicea said. They are divided into two types:
Secure conditional transition facility: Similar to halfway houses, residents move into these DSHS facilities that offer more intense treatment and services. Pierce County's SCTF are cottages at McNeil Island, on the commitment center campus; King County's SCTF is located in Seattle's SoDo district.
Community placement: Residents transition into any number of less restrictive environments, such as apartments, privately contracted facilities or family homes. They sometimes wear GPS trackers.
This story is the result of research from a yearlong project in partnership with the Washington State History Museum. It supplements Episode 2 of the podcast Forgotten Prison, a six-part series from KNKX Public Radio hosted by reporters Simone Alicea and Paula Wissel. Subscribe via Apple, Google or anywhere you get podcasts.