KNKX Connects to Grays Harbor: Star Wars fanatic's shop evokes a galaxy far, far away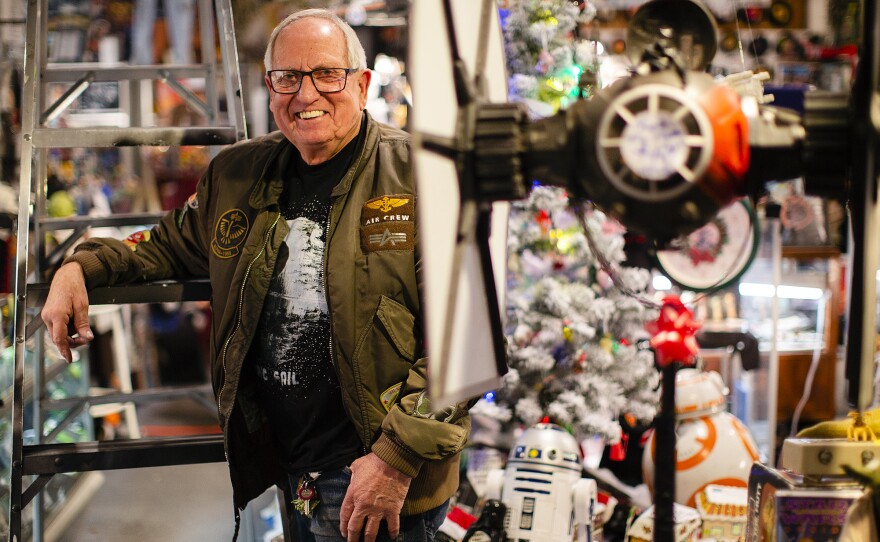 Don Sucher, owner of Sucher and Sons Star Wars Shop in Aberdeen, is too jovial to be a purist.
Parker Miles Blohm / KNKX
Sucher and Sons Star Wars Shop in Aberdeen.
Parker Miles Blohm / KNKX
Tomorrow, KNKX Connects to Grays Harbor County. All Things Considered will broadcast from the Aberdeen Timberland Library, sharing stories about government, business and history. Today, we give you a sneak peek of our special coverage. KNKX producer Geoffrey Redick brings us along on a visit to Sucher and Sons Star Wars Shop in Aberdeen.
ABERDEEN, WASHINGTON — Don Sucher isn't a purist. He's too jovial for that. When Star Wars came out in 1977, it blew his mind. But he didn't start collecting memorabilia until the 1990s.
By then Sucher was re-married with two young sons, and filmmaker George Lucas was ready to add to the franchise with a trio of prequels. Sucher and his kids quickly filled up their house with toys. So, he rented a storefront on the main drag.
Fast-forward to November 2018: Sucher drags a stormtrooper mannequin and Princess Leia (in a wheelchair) onto the sidewalk. His spiel comes before "hello." Inside, floor-to-ceiling, wall-to-wall merchandise is plastered across every surface. Action figures crowd each other on tables, ships dangle from the ceiling, droids stacked in a display case.
The place feels less like a store and more like a galaxy far, far away. It is at once chaotic and inviting — nothing sits behind glass or velvet rope.
Despite the shop bursting at the seams, Sucher said there's always room for more.
"It's like an addiction," he said, laughing. "I can't quit."
And he looks the part. He's had a tattoo of Carrie Fisher's face on his left bicep for 20 years. Below it, her signature — tattoo ink where the late star signed in Sharpie 11 years ago, when Sucher met her in Los Angeles for the film's 30th anniversary celebration.
Sucher and Sons has been open for 21 years. The owner says 30,000 cars, on average, pass by his store every day. The store is on East Wishkah Street, just as you cross the river and enter Aberdeen, heading west to Ocean Shores. People are always stopping in to sell him stuff.
Sucher can't quite put into words what mesmerized him — and still does — about Star Wars. "It's like trying to tell a stranger about rock 'n' roll."
In addition to merchandise — much of it marked at $15 or less, he says — Sucher's store is covered with fan-art of his own creation. He uses action figures and his own imagination to create funny scenes related to Star Wars. His favorite item right now is a gigantic Millenium Falcon, which was part of a set that got sent to toy stores when the prequels were released. They were given away to kids back then, but many of them ended up on eBay.
Sucher doesn't just share his devotion for Star Wars. He also has areas devoted to 80s toys and music. Old records hang on the wall — which have survived four marriages, Sucher quipped.
Sucher gets a lot of visitors, 20 to 30 people on any given day, he says. He has a couple maps in the store, where people have added push-pins to their state or country of origin. The maps looks like porcupines; European country borders are totally obscured by the quills.
Back in 1977, a 35-year-old Sucher saw Star Wars about 20 times. Today, what keeps his devotion alive is the shared passion that transcends time, age, hometown and more — from the people he is able to meet as his love for Star Wars spills out onto the sidewalk.
"One minute it will be a biker dude from L.A., the next minute it's a Jewish family from New York, the next minute it's an Englishman who's really proper," Sucher said. "But I really enjoy that. And, gee, they're all the same. So maybe this will bring world peace, I don't know."
Extra: Remembering Kurt Cobain
At a time when nobody in town was highlighing the life of Nirvana frontman Kurt Cobain — who hailed from Aberdeen, where the city's welcome sign says "Come As You Are" — Sucher did. He says he created a map to pointed out several places where the musician hung out, bought his guitar, and more. The store also showcased some pictures and sold merchandise: "You'd be surprised how many Kurt fans love Star Wars," Sucher said. "So they feel like they got a two-for-one here."
don_sucher_cobain_clip_for_web.mp3
Don Sucher talks with KNKX producer Geoffrey Redick about Kurt Cobain.
Tune in for more stories from Grays Harbor County tomorrow during All Things Considered. Host Ed Ronco also will sit down for live chats with a local museum director and a local librarian.