Big Opening Game Sets Up Expected Winning Season For UW Football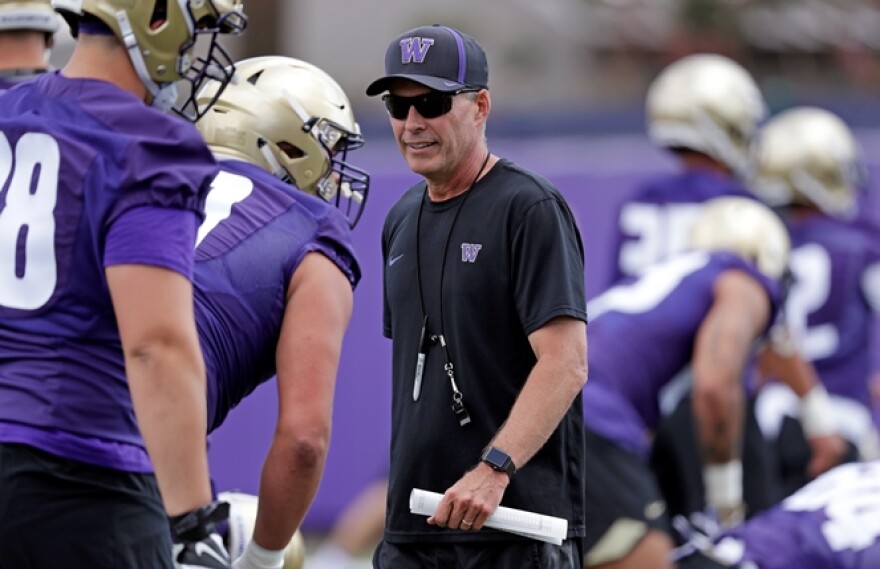 The University of Washington football team opens its season this weekend. The Huskies play Auburn Saturday afternoon at 12:30 p.m. in Atlanta.
KNKX sports commentator Art Thiel tells KNKX Morning Edition host Kirsten Kendrick it's a big game for a team that's expected to have a stellar season.
'Could Win By A Touchdown Or Two'
The Huskies are ranked sixth in the nation. The Auburn Tigers are ranked ninth.
It's the first time the University of Washington has had a top-ten matchup for its opening game in more than 60 years.
"This game is setting up as the breakthrough moment - the big opportunity for the Huskies to be a genuinely well-regarded national powerhouse," Thiel said.
"They're only a one-and-a-half-point underdog, so a lot of people think it's possible they're going to pull this off."
"I think they actually might win by a touchdown or two."
'Best' Defensive Backfield + Seasoned Offense
"One of the reasons I say that is that they have what I think is the best defensive backfield in the country and maybe ever in Husky football."
Thiel said the strong defense is complemented offensively by quarterback Jake Browning and running back Myles Gaskin - both seniors this year.
"This is a rare tandem in Pac-12 history," he said. "These guys have started for all four years and have been good all four years."
"In fact, Gaskin has rushed for 1,000 yards in his first three years. If he does that again he'll be the first back in Pac-12 history to have done so."
"And that's saying something, given the quality and talent that has been in that position in this conference."
"Jake Browning has recovered from a shoulder surgery. He's going to be a lot stronger this year than he was in his junior year because he had a mediocre - for him - performance last year."
"I really think that Gaskin and Browning together are a great offensive tandem. And then the defensive backs are really going to shut down Auburn."
"It's going to be a lot of fun to watch."
Never miss an episode again. Subscribe to Sports With Art Thiel with iTunes orGoogle Play now. You can find Art Thiel's work at Sportspress Northwest and Crosscut.com.