Pierce County medical examiner announces upcoming retirement amid investigation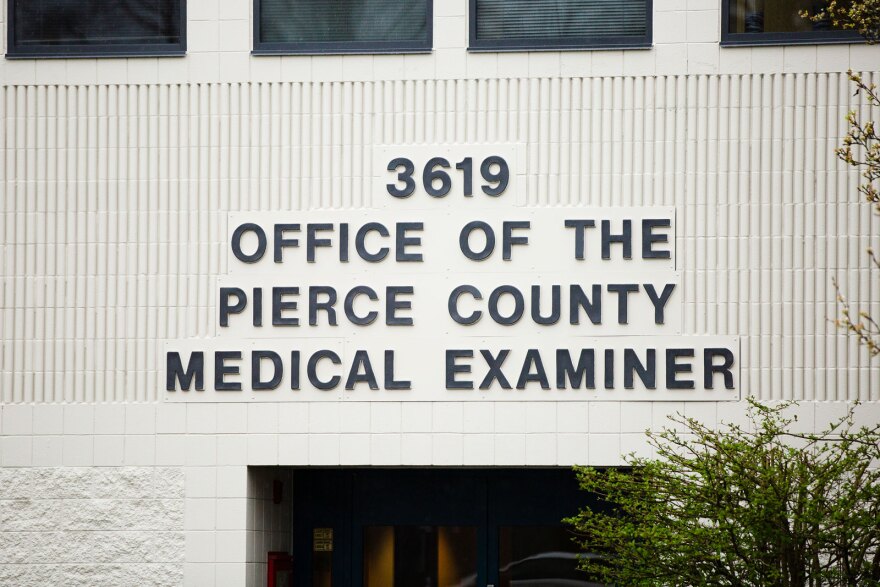 Amid an ongoing investigation into his conduct, Pierce County Medical Examiner Thomas Clark has announced he will retire, effective next year, after nearly a decade leading the office.
In a news release Monday, the county said Clark will continue serving as the top official in charge of death investigations and autopsies until county officials can find a full-time replacement.
"This doesn't impact the investigation," county spokeswoman Libby Catalinich told KNKX Public Radio on Monday. "That's still ongoing."
Carol Mitchell, senior counsel for justice services at Pierce County, will provide additional support and resources for day-to-day management of personnel and other operations needs during the transition.
Clark has faced a slew of allegations from his second-in-command, Associate Medical Examiner Megan Quinn.
Among her complaints is what she describes as Clark's ineffective leadership of the office. Quinn also alleges Clark cuts corners in death investigations and comes to hasty conclusions in certain cases. She filed a whistleblower complaint earlier this year, as well as a complaint with the state Medical Commission. Clark, a medical doctor and Pierce County's highest paid employee, has denied the allegations; his attorney calls them "fabricated" and "vindictive."
Quinn has since been placed on administrative leave — for insubordination and other charges, according to the county — a move her attorney calls retaliation.
Families in Pierce County and professionals linked to the Pierce County Medical Examiner's Office also have spoken out about their concerns regarding Clark.
In March, KNKX reviewed more than 1,500 pages of county documents and talked with several sources who expressed alarm about Clark's conduct and, as a result, the credibility of the office he leads.
The county spokeswoman said Clark was not available for comment Monday.
The Pierce County medical examiner's primary role is to perform autopsies and oversee investigations into hundreds of deaths each year. Those determinations about how people died can guide criminal investigations and court cases, affect life insurance payouts, and shape public health statistics.
The county faces an uphill battle in its search for a new medical examiner, as the nation faces a shortage of forensic pathologists and other specialized professionals in the field of death investigation.
Several active job listings posted by the voluntary, not-for-profit certification board for the profession date back to fall of last year.
Kitsap County Coroner Jeff Wallis was elected in 2018 on the platform of changing the system of death investigation in his county. Coroner offices, which represent a majority of counties in Washington state, are led by elected officials who aren't required to be trained in forensic pathology.
In May, Wallis was given the green light from county commissioners to hire a forensic pathologist — the first step toward transitioning away from elected coroners who contract outside professionals for autopsy services.
Wallis said the plan was to have someone in place by July. They're still actively searching.
"There is a grand shortage of certified forensic pathologists right now," he said in an earlier interview with KNKX. "There aren't enough qualified people to go around."
Pierce County has yet to release details on the recruiting process for Clark's replacement.
Meanwhile, the investigation into his conduct, as well as the county's claims against Quinn, continue. It's unclear when the probes will conclude.
This story is developing. Check back for updates.