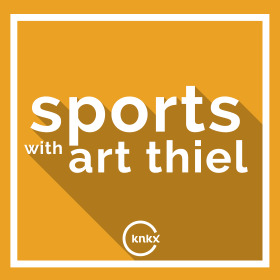 Covering all the major professional sports teams in Seattle as well as the University of Washington and Washington State University. Kirsten and Art also talk about the business of sports, such as the proposal to build a new arena in Seattle. Thiel offers a unique and informed perspective to listeners. His philosophy for his commentary on KNKX is to give the casual sports fan "enough information to be interesting at a party."
The Seattle Mariners begin their first playoff series in 21 years Friday afternoon. They play the Blue Jays in a best-of-three American League Wild Card series - with all games taking place in Toronto.

The Seattle Seahawks added nine players in the NFL draft that wrapped up over the weekend. But none was a quarterback to replace Russell Wilson, who was traded to the Denver Broncos in the offseason.

After barely missing the playoffs last year, the Seattle Mariners' season of high expectations begins Friday in Minnesota. Seattle Mariners rookie phenom Julio Rodriguez is on the Opening Day roster.

The Seattle Seahawks' blockbuster trade of quarterback Russell Wilson this week was enough to bring back former KNKX sports commentator Art Thiel.

For more than 15 years on KNKX, Art Thiel has been musing about sports in weekly conversations with Morning Edition host Kirsten Kendrick. That is changing after this week. Art sat down with Kirsten to talk about his big announcement.

The Super Bowl takes place on Sunday. The NFC-champion Los Angeles Rams play the AFC-champion Cincinnati Bengals. There are some storylines — and players — for local fans to follow.

The Seattle Storm this week locked up their top three players for the 2022 season. It's a season that has them returning to their revamped home: Climate Pledge Arena.

Washington's Gonzaga Bulldogs are again atop the men's college basketball world. They're No. 1 in the coaches' poll and No. 2 in The Associated Press poll. But the program has also received some unwanted attention recently.

Following a disappointing 2021 season, the Seattle Seahawks will have an offseason full of change.

After their first losing season in the time of head coach Pete Carroll and quarterback Russell Wilson, the Seattle Seahawks are spectators this weekend, as the NFL playoffs begin.