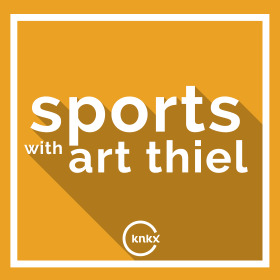 Morning Edition at 5:45 & 7:45 and on All Things Considered at 4:44
Covering all the major professional sports teams in Seattle as well as the University of Washington and Washington State University. Kirsten and Art also talk about the business of sports, such as the proposal to build a new arena in Seattle. Other issues they've discussed include head injuries in sports and the crackdown on domestic violence.
Thiel offers a unique and informed perspective to KNKX listeners. His philosophy for his commentary on KNKX is to give the casual sports fan "enough information to be interesting at a party."
After a surprisingly good season, the Seattle Mariners have made two important acquisitions that have created a buzz about 2022.

The Washington Huskies are seeking their eighth consecutive win over the Washington State Cougars in the 113th Apple Cup. The annual football rivalry game was canceled last year due to the pandemic but resumes Friday night at Husky Stadium.

Both of the professional soccer teams in the region made it to the playoffs this season. The OL Reign was ousted in the semifinals on Sunday, Nov. 14. And the Seattle Sounders are preparing for their first playoff game of 2021 on Tuesday night at home against Real Salt Lake.

Seattle Seahawks quarterback Russell Wilson is back from injury just in time to face the Green Bay Packers on Sunday afternoon at Lambeau Field, where the Seahawks haven't won this century.

The University of Washington football team hosts fourth-ranked Oregon on Saturday afternoon. Many believe it's the Huskies' most important game of the season.

Seattle Mariners legend and Hall of Famer Ken Griffey Jr. has rejoined the team — as a part owner. KNKX sports commentator Art Thiel talks about Griffey's new role with Morning Edition host Kirsten Kendrick.

Nearly three years after being awarded an expansion franchise in the National Hockey League, the Seattle Kraken has its home opener Saturday night against the Vancouver Canucks in the new Climate Pledge Arena.

The Seattle Seahawks are on the road to play the Pittsburgh Steelers in prime time on Sunday night - without quarterback Russell Wilson. It will be the first time he hasn't started a game in his NFL career. And that's not the team's only problem.

The Major League Baseball playoffs are happening. For the 20th year in a row, they don't include the Seattle Mariners. That's despite a surprisingly successful season.

Now that an eventful Seattle Storm season has ended, with an overtime loss to Phoenix in the second round of the WNBA playoffs, a lot of decisions lie ahead for the four-time champions.