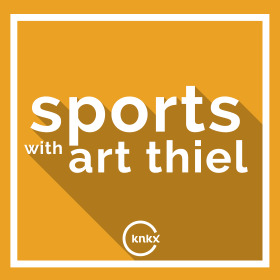 Morning Edition at 5:45 & 7:45 and on All Things Considered at 4:44
Covering all the major professional sports teams in Seattle as well as the University of Washington and Washington State University. Kirsten and Art also talk about the business of sports, such as the proposal to build a new arena in Seattle. Other issues they've discussed include head injuries in sports and the crackdown on domestic violence.
Thiel offers a unique and informed perspective to KNKX listeners. His philosophy for his commentary on KNKX is to give the casual sports fan "enough information to be interesting at a party."
The University of Washington football team plays Cal Saturday evening at Husky Stadium. Both teams are 1-2 and desperate for a win.

The Seattle Mariners are on the road for the next 10 games, after losing four of six in a crucial home stand.

The Seattle Seahawks open their regular season Sunday on the road against the Indianapolis Colts. They're hoping to do better than their one-and-done playoff appearance last season. More from KNKX sports commentator Art Thiel and Morning Edition host Kirsten Kendrick.

The Seattle Mariners are on the road for their next six games. They're playing the Diamondbacks this weekend in Arizona. The Mariners finished their latest home stand with two amazing wins against the American League West-leading Houston Astros. More from KNKX sports commentator Art Thiel and Morning Edition host Kirsten Kendrick.

The Seahawks have their third and final preseason game Saturday night against the San Diego Chargers at Lumen Field. But as we hear in a conversation with KNKX's Kevin Kniestedt and sports commentator Art Thiel, there was a surprising personnel development this week.

The Seattle Seahawks play their second exhibition game of the season Saturday night. They host the Denver Broncos at Lumen Field. Strong safety Jamal…

The Seattle Seahawks play the first of three NFL preseason games on Saturday night. They will be in Las Vegas to take on the Raiders. KNKX sports…

The Seattle Mariners are playing the Yankees in New York this weekend. The Mariners acquired a few new players ahead of the trade deadline, and the team…

The Seattle Seahawks started training camp this week without much drama but with a lot of expectations for a team that won 12 games last season. KNKX…

Expect more personnel moves from the Seattle Kraken soon, as the team continues to build its roster. The Kraken added 30 players this week in the National…