From 1983 to grandparenthood, lesbian group's shared history
Courtesy Drew Zandonella-Stannard
Courtesy Drew Zandonella-Stannard
It all began in 1983 in the basement of a church.
They were a dozen or so lesbians in committed relationships who wanted to be good mothers. Some already had children, and some were still figuring out how to make it happen.
One woman even handed out mimeographed instructions on how to artificially inseminate with a syringe and sperm from a donor.
During a recent weekend, 10 of those women filled the living room of a home in Seattle's Greenwood neighborhood.
Now old friends, laughter filled the room as they share the news that two of them, Kathy Silverman and Jan Veling, recently became grandmothers.
"We're very excited. We have a granddaughter, who is 8 months now," said Silverman. "And she's the cutest thing ever."
Their joy is that much more intense, because many thought they'd never get to this point. They'd grown up at a time when it seemed like an openly-gay lifestyle couldn't include children.
"Because we had no other way to do it. We had to help one another and support one another so that we could have children," said Sunny Rivera.
But then they found each other.
'Here we are, two lesbians in the world in 1984, and we have this baby'
Rivera volunteered as a sperm runner, making special nighttime deliveries in Seattle: "You know, carrying sperm and speeding as fast as I can to give it to the lesbians, who are waiting."
She said she kept her precious cargo warm in a container that she held between her legs.
"And I was afraid I was going to get pulled over, and they're going to think I have drugs or something. So it was kind of interesting," she said.
Meredith Stannard and Elyse Zandonella soon gave birth to a girl. Like most new parents, they were overwhelmed, Stannard says, and their parenting group became a lifeline.
"'Cause once you do it, you go like, 'Oh my god, look what we've done!' Here we are, two lesbians in the world in 1984, and we have this baby. And you know, it's pretty uncommon," said Stannard.
The moms' support group helped them feel more normal. Much of what they talked about was the same as any new parents: how to survive colic episodes or temper tantrums, or toddlers who wouldn't go to sleep at night.
Growing up without the group 'would have been really kind of isolating'
Over the years, the group grew into an extended family.
"We would have Easter egg hunts and we'd make cookies at Christmas and everything. And all the kids, you know, they looked around, and all the families looked the same. And so that was good for them," said Stannard.
Her daughter agrees. Drew Zandonella-Stannard, now almost 29, says none of the kids she went to school with others who had gay parents. So, when she was little, the support group was the only place where she met other kids who came from families like hers.
"I just thought of them as these kind of weird cousins, who I saw sometimes, who I had play dates with," she said. "And I didn't think about it at the time, but looking back, if I had spent my whole childhood not ever knowing anyone that had a family like mine, it would have been really kind of isolating."
Instead, she says she's enjoyed the love and support of a big group of moms they all jokingly call the lesbian mafia, and can depend on for any kind of help.
'You had to be out there, you had to be brave'
Drew Zandonella-Stannard's mother says it wasn't easy.
"You had to be brave and you had to be out there. And you had to make sure that the kids were proud of you as parents, and not trying to hide and say you're somebody else," said Zandonella.
"I remember going to school with Drew when she was in Montessori and I walked into class and they said, 'Who are you?,' The kids. And I said, 'I'm Drew's mom.' (They said,) 'No, the other one's her mom.' I said, 'Well, I'm her mom, too.' (They said,) 'Oh no, she can't have two moms.' 'And I said, 'Well, why not?' And then they all just sort of looked at me.
"You had to be out there, you had to be brave."
And that courage was necessary every new school year, each time their kids joined a sports team or made a play date with a new friend.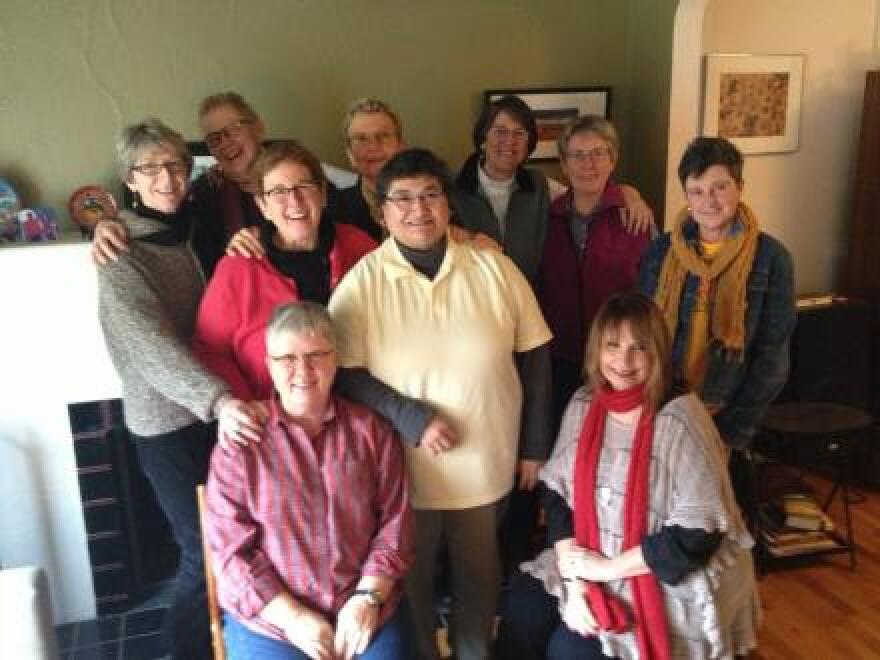 'Mom, why do you have to be a lesbian?'
Jean Kasota remembers when her daughter, Bryce, was about 9 years old, and had to make a family tree to hang in the hallway at her school.
"And she was just agonizing: does she put her donor, or does she put her other mom on it? And she was crying, and it was really hard and I was helping her decide which to do.
"And she said, 'Mom, why do you have to be a lesbian?' And I said, 'Well, I'm a lesbian because that's who I am, and in order to be authentic, you know, that's just who I am.'
"I said, 'Maybe a better question would be, if I knew I was a lesbian, why did I choose to have children?' And she looked at me with these eyes and the tears in her eyes and she said, 'No Mom, you were meant to be a mom.' So, even…no matter how much that was a troubling situation for her, she knew that our families were important."
'How could you ever think that that would be damaging to someone?'
Over 30 years, this group of families has gone through thick and thin. Some got married when it became legal in other states. Two of the five couples broke up and brought new partners into the group. Still, the shortest relationship has lasted 18 years.
Zandonella-Stannard says she and the other kids are grateful for the stability their "big gay family" has provided. It makes her blood boil to see people demonstrating against same-sex marriage, or Supreme Court justices asking if the lifestyle is damaging to children.
"If I could just go meet them and be like, 'Look how well-adjusted my friends and I are. Look at this wonderful, supportive group of mothers. How could you ever think that that would be damaging to someone?'"
Next month, the moms group will celebrate their 30th anniversary. And in June, they're hoping to celebrate a change in federal law for same-sex couples.