Four new jazz albums take inspiration from the classic rock era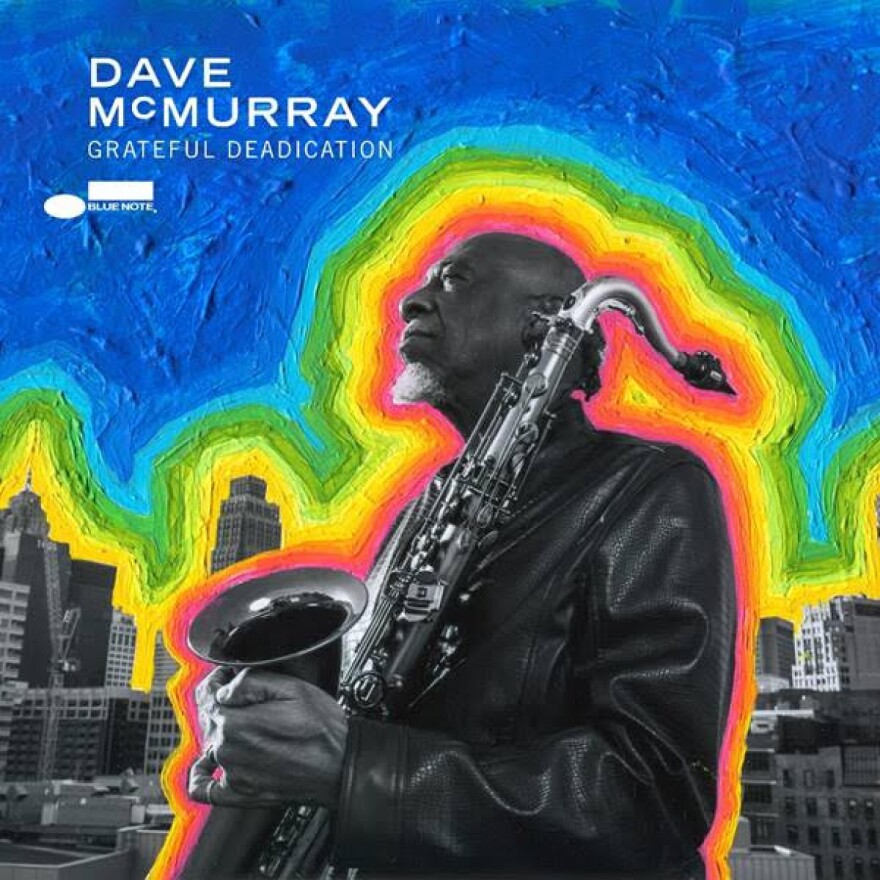 Considering the music of the classic rock era is about 50 years in the past, it falls in the "oldies" category today. As jazz musicians have always found inspiration from the musical past, perhaps the music of Led Zeppelin, Jimi Hendrix, The Grateful Dead and Bob Marley are the new "standards" ripe for improvisational exploration.
KNKX jazz host Abe Beeson has a look at the four new jazz albums honoring these stars of hard rock and reggae.
Dave McMurray: "Grateful Deadication" (Blue Note Records)
The music of the Grateful Dead can be polarizing, drawing intense devotion as well as unimpressed dismissal from music lovers of all walks of life. You either love the Dead or you don't really get it. With his Grateful Deadication, Dave McMurray has an album for Deadheads and jazz fans that sounds brand new.
Multi-instrumentalist McMurray, a Detroit native, first toured with blues legend Albert King's band in the early '70s, then joined the genre-spanning group Was (Not Was) when it formed in 1979. That band's leader, Don Was, is now the President of Blue Note Records. Murray's new album is his second for the label, and it's also another connection to Mr Was.
McMurray says his "Grateful Dead adventure" began when he first played with the Wolf Brothers, a recent musical project of Grateful Dead guitarist Bob Weir that now includes Don Was on bass.
The openness of the songs reminded McMurray of the solo playgrounds created by Miles Davis. "The more I listened," he told Jazz.fm, "the more I knew these songs would eventually become a vehicle for my jazz expression."
The blues, soul and mostly relaxed mood of the Grateful Dead's music find flight in McMurray's arrangements. Jazz sensibility is there, but the album might feel closer to the source material to the ears of most jazz fans.
The album's first single, "Loser," is a folk-blues tune given new life by legendary blues singer Bettye Lavette. Guitarist Wayne Gerard finds himself on equal ground with bandleader McMurray here, as both offer a deep, yearning blues feeling.
The up-tempo, pulsating "The Eleven" finds McMurray's band in complete control of the tricky time signature, bursting with tropical clave rhythms before driving into a bridge section that really rocks.
Relaxed grooves with modern edges, marked by dual rhythm guitars and both synthesizer and piano in support, "Fire on the Mountain" highlights the melody of the original and McMurray's soul-and-sun-soaked saxophone soloing.
That album opener and other songs, like "Estimated Prophet," employ adventurous electric keyboard flourishes from Maurice O'Neal that cleverly bridge modernist styles of the '70s and today. Fans of jazz and the Grateful Dead have always had much in common, Grateful Deadication gives both much to love.
Bob Franceschini/Kevin Hays/Orlando LeFleming/Obed Calvaire: "Whole Lotta Love: The Music of Led Zeppelin" (Chesky Records)
One of the early architects of heavy metal, Led Zeppelin drew great inspiration from American blues artists. Some of their best-loved songs were covers of Willie Dixon, Howlin' Wolf and Memphis Minnie classics. So a jazz tribute to Led Zeppelin sounds like a natural fit. Whole Lotta Love: The Music of Led Zeppelin finds the blues core of the source material and successfully brings to it a jazz sensibility.
Saxophonist Bob Franceschini, pianist Kevin Hays, bassist Orlando LeFleming and drummer Obed Calvaire co-lead the group, and the catchy nature of Led Zeppelin's long string of radio hits provides an outlet for these improvisational experts.
Chart toppers "Whole Lotta Love," "Kashmir" and "Immigrant Song" all serve as launching pads for rearrangements, exciting solos, and show the band's obvious love of the original music.
The memorable descending bass line of "Dazed and Confused" sets the stage for the first half of the Franceschini/Hays/LeFleming/Calvaire recording, then centers on the stuttering bass and drums of the song's coda. The sax and piano solos are worthy of a stadium-sized audience, grandiose and powerful.
The ebbing and flowing changes of "Kashmir" find Franceschini on soprano sax, blowing a passionate solo that evokes Robert Plant's soaring vocals. The piano, bass and drums find common cause in the melodies, but otherwise avoid copying Led Zeppelin's guitar, bass and drum icons.
Always a guitar-lover's favorite, "Stairway to Heaven" isn't included on this tribute. However, Zeppelin fans will appreciate the inclusion of lesser-known songs "For Your Life" and "Custard Pie." The band creates soulful centers for both songs and might have jazz fans curious to revisit the rock originals.
Hays' piano work is the jazz heart of Whole Lotta Love, whether adding a powerful swing or finding just the right tone for the dark chords of this classic hard rock. The upright bass of LeFleming finds just the right balance between honoring the intention of the songwriters and playing that stays true to his modern traditionalism. Calvaire's drumming is no match for the hard-hitting John Bonham, but meets the needs of the songs and gives all of these Zeppelin tunes more color and swing than the rock group ever attempted.
Whole Lotta Love concludes with a slow burning version of "No Quarter," with bowed bass and deep tenor tones that will leave no doubt that this is still a jazz band, through and through.
Acute Inflections: "400" (a tribute to Bob Marley) (self-released)
Singer Elasea Douglas and bassist Sadiki Pierre are Acute Inflections. The title of their new Bob Marley tribute album, 400, refers to the four centuries since the first Africans were taken into slavery in the Americas. It's also one of the lesser-known Marley songs they rework among 16 tunes — plus three interludes — on 400.
Acute Inflections focuses on Bob Marley's strident political compositions, joyful melodies and his literal "songs of freedom." 400 reminds the listener of the incredible legacy of Marley's musical output. Hits like "I Shot the Sheriff," "Stir It Up," "Jammin'," "Waiting In Vain" are all reminders of his genius. More obscure pieces also prove the point, Bob Marley was an international superstar whose music continues to inspire us today.
Tuneful and soulful recordings of deep cuts like "All Day All Night" and "High Tide or Low Tide" (incidentally, both bonus tracks on the 2001 CD release of Marley's Catch a Fire) will have reggae novices digging further into the Marley songbook. Reggae and jazz lovers alike may be moved to discover more from Acute Inflections.
The duo's talent at filling a song with just voice and acoustic bass, which they've honed over four albums in as many years, shines brightly on these beautiful songs that have become so many musical touchstones since their original 1970s recordings. Memorable music from an innovative young duo, 400 is a compelling celebration of Bob Marley.
2B3 - "Jimi" (self-released)
Organist Jeff Jenkins joins guitarist Mike Abbott and drummer Mike Marlier as 2B3, working to expand the organ trio tradition into their other musical passions of funk, pop music and classic rock.
Their tribute to history's greatest rock guitarist, Jimi Hendrix, Jimi leans heavily in the direction of hard rock. Heavy is right. Abbott's guitar is turned up to 11, and these three veterans truly rock out on this collection of ultra-heavy grooves.
Twenty years of frequent collaborations have tightened this organ trio, which serves 2B3 well as they re-imagine these songs with complex time signatures and sudden changes in direction and tempo.
All three musicians are also jazz educators in Colorado and developed this tribute project after exploring jazz arrangements of songs by Prince. The progression from Prince's unique pop — a stylistic successor to Hendrix's soulful side — to this classic rock catalog was natural.
Thick distortion effects color Abbott's guitar as the album kicks off with "Purple Haze"; Jenkins gets a gritty sound from his organ, and Marlier fuses his jazz chops with progressive rock liveliness.
The beautiful ballad "Little Wing" has a lighter touch, drawing tasty chordal work from Abbott and a gospel-tinged organ solo from Jenkins that feels like a trip to church. The Sky Church, maybe?
More abstract rearrangements of "Fire" and "Foxey Lady" use the well-known melodies as springboards for driving improvisational flights. Here's where comparisons could be detrimental. No one can emulate the Hendrix guitar style without sounding like a cheap imitation. Abbott stays within his own musical personality, which could leave rock fans rushing back to their Hendrix records.
The closer for 2B3's Jimi tribute is an original tune. "Jimi" gives drummer Marlier room to decorate the introduction with a relaxed solo, then Abbott and Jenkins build the song up gradually into a mountain of sonic colors. It's an epic, psychedelic portrait of a musician who deserves the pedestal on which his fans have placed him.