Teachers' Union: Expect Walkouts Next Year If State Budget Is Lacking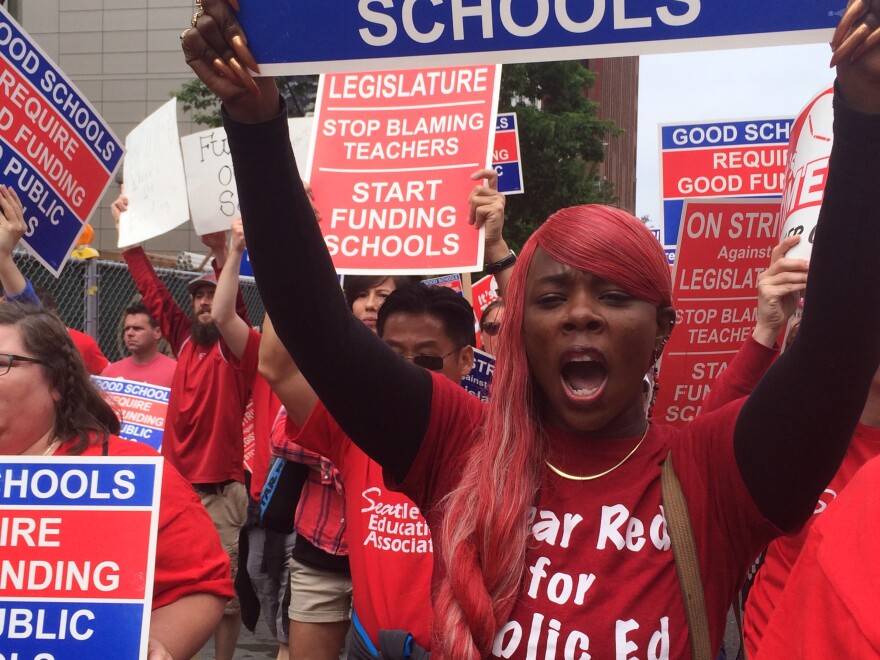 Teacher walkouts that closed schools in dozens of Washington school districts this spring might resume during the next school year if lawmakers don't approve a budget that meets teacher demands, state and local union leaders say.
Specifically, the Washington Education Association will "support local strikes throughout the state" if the new budget does not include the larger pay raises and across-the-board class size reductions the teachers union has demanded.
"The hope would be that the legislature would fulfill its obligation," WEA spokesman Rich Wood said.
At the union's representative assembly in late April, delegates adopted a motion directing WEA staff to begin preparing for "possible widespread strikes" during the 2015-16 school year by helping local union chapters organize their members and develop communications plans.
In spring, one-day strikes rolled through more than 60 school districts statewide. Woods said expect more of the same if the budget is lacking.
"In the fall," Wood said, "it will be up to educators themselves at the local level to decide what action, if any, they want to take in response to the state budget."
Budget Battle
Teachers in at least one large district, Tacoma, have already raised the possibility of walking out next school year. They decided against holding a walkout in the waning days of this school year, opting instead to prepare for a possible, "more-substantive action this fall," according to Tacoma teachers union president Angel Morton.
State lawmakers' budget negotiations have already spilled into a second special session. Both Democrats and Republicans have proposed more than $1.3 billion in new K-12 spending, but the two camps remain divided over other issues.
Senate Republicans have proposed increasing teacher salaries by 3 percent over the next two years. House Democrats have called for a 4.8 percent boost. But WEA leaders say lawmakers have put off these cost-of-living raises for too long. They also criticize both parties' spending plans for limiting class size reductions to Grades K-3.
The motion WEA members approved said the final budget "must include class size reductions for all grade levels, significant increases in compensation, and must not be at the expense of higher education or social programs."