'Something cool to have pride about': eTc Tacoma stitches together clothing, creativity and the city's culture
Walking into eTc Tacoma, a streetwear boutique located downtown, feels more like stepping into a living room than a storefront.
There's a couple couches, two TVs mounted on the wall, complete with an Xbox set up, a candle or two, some plants, relaxed hip-hop playing in the background. Just three clothing racks and a few display tables fill the rest of the space.
"We want to be more relaxed and lounge-y than a department store where you feel forced to shop," said store manager Daz Johnson, 26.
"Some people will come here and don't even buy anything — they just come kick it, hang out, and that's part of the culture that we're trying to create," Johnson said.
But don't get it twisted: The clothes do sell. It's common for lines of faithful customers to stretch out the door, especially on drop days when shoppers can pick up the newest items from the latest collection.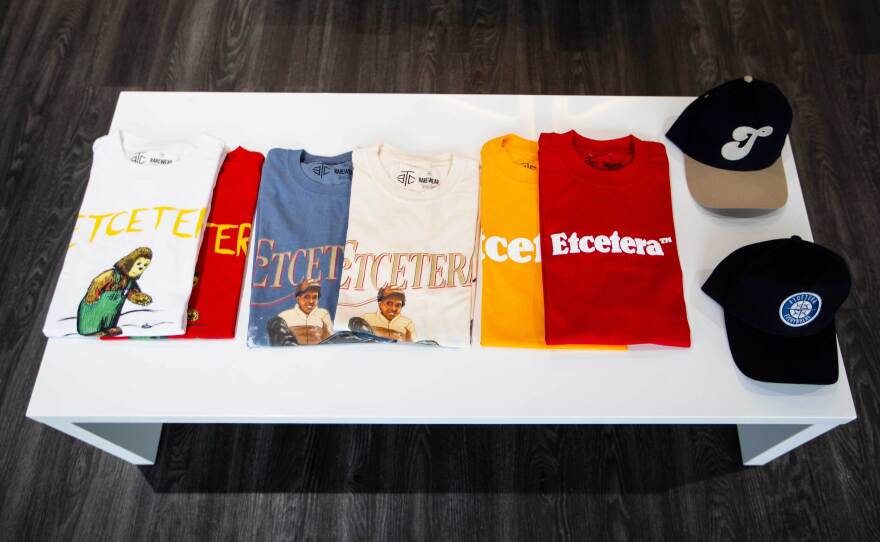 1
of
3
— ETC_PMB_20211221_139.jpg
Designs from the latest collection are displayed on a table in ETC Tacoma storefront.
Parker Miles Blohm / KNKX
2
of
3
— ETC_PMB_20211221_019.jpg
Some items from the latest collection hang up on a clothing rack in the ETC storefront.
Parker Miles Blohm/Parker MIles Blohm / KNKX
3
of
3
— ETC_PMB_20211221_126.jpg
Afa Ignacio checks out what clothes are available from the latest ETC Tacoma collection on December 21, 2021.
Parker Miles Blohm / KNKX
eTc carries original design T-shirts, sweatsuits and outerwear. More specifically, it's rarewear. They usually don't remake or restock the same styles. Once it's gone, it's gone: Each piece is kind of like a collectible.
From the clothes to the character of the store, eTc is one of the few outfits in Tacoma dedicated to cultivating a streetwear scene in the city.
Streetwear is a dynamic set of the fashion industry largely influenced by surf, skate and hip-hop subcultures. Most popular brands are based out of fashion hubs like L.A. and New York.
But eTceTera co-owners Perris Wright, 33, and Umi Wagoner, 32, grew up in Tacoma. During the '90s and early 2000s they bonded as teens over a shared interest in fashion.
Back then, it was hard to find spaces that catered to their personal style.
"We were like, 'How does this not exist in Tacoma?' " Wagoner said.
So, after building a few smaller brands, going off to school and coming back, they opened the eTc Tacoma storefront in 2014.
"We understood that we wanted to fill a void." Wagoner said.
Steady growth through social media, word of mouth, events and brand collaborations has turned eTc's clothes into a magnet for the city's younger population, and the brand has grown to represent more than clothes.
On any given day the storefront could transform into an art gallery, a stage for an open-mic night or listening party, or a pop-up shop hosting other brands. They've collaborated with restaurants, breweries, hometown legends and cultural institutions. It's a connective and generative hub for creativity in the city.
"It makes me feel like I'm talking about myself, because it's supporting a place — I love Tacoma," said Alfredo Dominguez, 26, an eTc customer. "I love it so much. I'm here more than Seattle. So, for me, when I come down here, this is always a place I have to stop by."
Where someone is from is often sewn into their personal style. Repping Tacoma is foundational to the brand that capitalizes the 'T' in all of its labels.
"Growing up, I feel like everybody wanted to leave Tacoma because we didn't really have something that we can really call our own and have pride about. So, this is something cool to have pride about," said store manager Johnson.
It's even caught the attention of the city's most prominent ambassador.
"It makes me cool," said Mayor Victoria Woodards.
Woodards said she learned about the brand before she got elected. And by now, she owns eTc's signature anoraks in nearly every color: orange, black, navy and a bright yellow.
eTc's design themes often showcase the owners' humor and affection for the city and the state. Look out for goldfinches — the state bird. Or Sasquatch, the Tacoma Dome, Ivan the gorilla and other references to the owners' memories of growing up in the city or things they find inspiring.
Initially, they started the brand to address a need. Now, it's more about capturing and sharing Tacoma's history as it grows and attracts more newcomers.
"The grunginess of the city is going away for the more clean version of it," Wagoner said. "There will be stories that need to be told, that we'll have to revisit, so that people will understand the Tacoma that we came from."
Stitched into eTc's items, you'll feel the softness of the fleece, the humor in the design and, he said, you'll feel the heritage of Tacoma.
Find eTc Tacoma at 116 S. Ninth St., Tacoma.