Ahamefule J. Oluo plans an exciting new year of music, television and hoops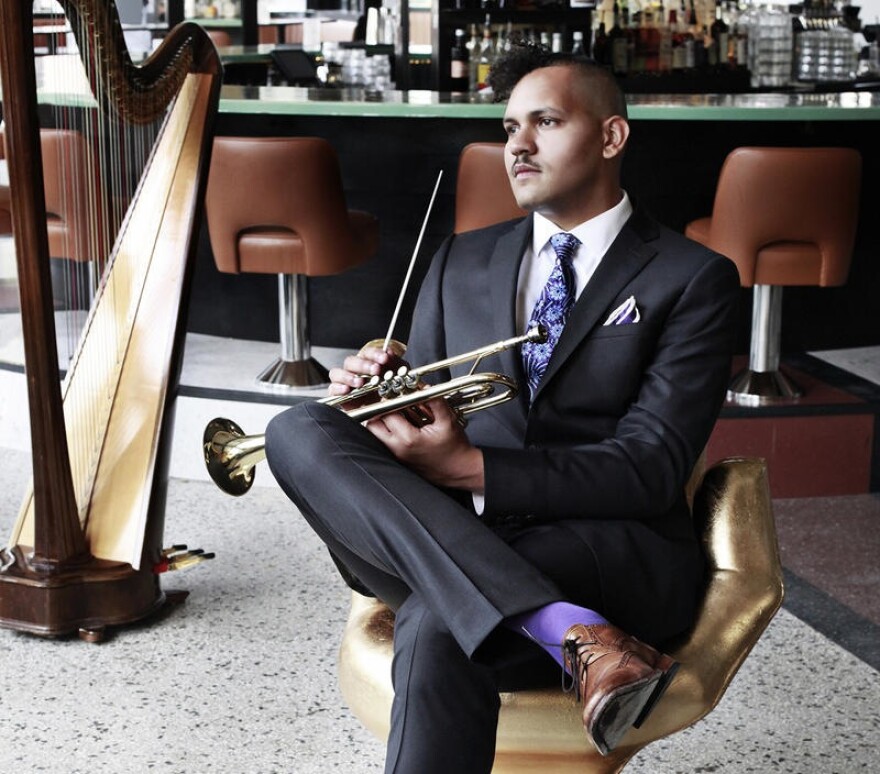 Ahamefule J. Oluo has been looking forward to 2022. Another series of pandemic restrictions made for a slow start, but Oluo told New Cool host Abe Beeson he has exciting plans in music and beyond. The party kicks into gear next at the Crocodile on Friday, Feb. 25, where Oluo's all-star group The Shrine begins a new series of live music-powered community revelry with a no-cover preview.
Life was busy for Oluo when the pandemic hit. The release of his feature film debut, "Thin Skin," was released in March 2020.
"The best time to release a film," Oluo says, ironically. He was also busy playing his trumpet, touring with the band from "Susan," his musical about his mother that debuted in 2019. "In January we were in New York, February in D.C., and we had plans throughout the year to tour the show. Everything shut down."
Thus, a musician who thrived on collaboration had to find another way.
"It shifted everything I was doing," Oluo shared. "My whole method of working musically had been growing to a place of collaboration and trust with other musicians, building my own community of people I worked with who understood my musical language. I was moving away from even having a lot of charts, digging into everyone's individual style ... and the pandemic hit. Everything I was working toward was absolutely useless now."
Solitude led Oluo to expand his use of looping technology.
"I've always used loopers in more ethereal ways, rather than for making solo music," he explained. "I started doing more of that, spent the first six months in my studio, figuring out what it was to make music on my own."
A solo gig led Oluo to a new partnership, teaming with emerging drummer Sheridan Riley.
"I had seen her at an online event and thought, 'What a beautiful player,' and I thought it would be great to work with her, even though I'd never met her before."
The partnership had another advantage: Both musicians were able to get early vaccinations.
"'Hey, we're both vaccinated and not a lot of other people are right now, we should get together and play music!' It was the first vaccinated musical connection I had, a really incredible moment."
The looped trumpet and modern drumming combination works incredibly well. The duo, Insect Revenge, has also proven to be a prolific songwriting team.
"Every time we get together, we write five songs," he said. "What's really wonderful is that every piece is coming from a collaborative place."
So, will Insect Revenge record this year?
"I don't know why we haven't — we could very easily go to my studio and make an album. It's definitely something we want to do. It's a really exciting project," Oluo relates.
You can catch Insect Revenge at Cafe Racer March 17.
Ahamefule J. Oluo and Sheridan Riley are Insect Revenge, performing at Cafe Racer in Seattle early this year
The duo is a "counterpoint to The Shrine," Oluo explained.
The all-star band premiered last year at Lo Fi Performance Gallery, and "it was one of the best shows of my life. It's really centered around the band, people of color, women in the band," he says.
Seattle sax hero Skerik joins Oluo, along with singer Talaya, rapper Don Grey, brass player Jerome Smith, Josh Rawlings at the keys, Marina Christopher on bass and D'Vonne Lewis drumming. Other Northwest musicians and touring players will also be featured, but Oluo emphasizes, "It's not a jam session!"
Oluo says the host venue, the new Crocodile on First Avenue, is working to build our nightlife back better: "There seems to be a focus on highlighting local things. Presenting a monthly show in a 700-capacity room on a Friday night ... that's not something that people do. Those nights are for large, touring acts. So, for me it's a huge opportunity to do something unprecedented, that you don't get to see — primarily instrumental music featuring the best local musicians. It's about taking your local scene seriously."
Fans of Oluo are familiar with his non-musical projects. Keeping him busy during the pandemic, Oluo finished work in the writing room of the stop-motion project Santa, Inc. on HBO Max, starring Sarah Silverman. He's also very excited about writing an episode of an upcoming Netflix anthology series Notes on Love with his wife, Lindy West.
"Steve Martin is doing one, Norman Lear is doing one ... and we're doing one!" Oluo says with a laugh. "It's been my favorite experience working in TV. It's no coincidence it's a Black-woman owned company (Shonda Rhimes' Shondaland production company). We're in talks with them about working on a bunch of other things," he teases.
One of the biggest developments in Oluo's life recently has been a personal one: He's been playing a lot of basketball.
"Something clicked, and I realized it was exactly like playing an instrument," he explained. Though he hasn't really connected with the long-lost Seattle SuperSonics, "I didn't play basketball until two years ago. I don't really have a team, though I'm excited about the Bulls this year!"
A quick check of Oluo's Instagram feed shows his game is really coming along,
"I practice every day. I'll play pick up ball for five hours, then the next morning, I won't be able to move."
Watch out for this guy on the playground!
Finally, there's another reason for fans of modern jazz trumpet to be excited about The Shrine show on Feb. 25. Christian Scott aTunde Adjuah is leading his band at the Crocodile at 7:30 that evening. The group includes Ghanaian djembe master Weedie Braimah, bringing a traditional flavor to Adjuah's futuristic soul jazz. Listen for both trumpeters on The New Cool show Friday night. You can also hear Oluo in 2014 with Industrial Revelation and his band from the musical "Susan" on the KNKX Studio Session Spotlight Friday at 8 p.m.
The New Cool airs Fridays at 9 p.m., hosted by Abe Beeson and produced by KNKX Public Radio in Seattle, Wash.