With Pending Agreement, Seattle Is One Step Closer To Better Bus Service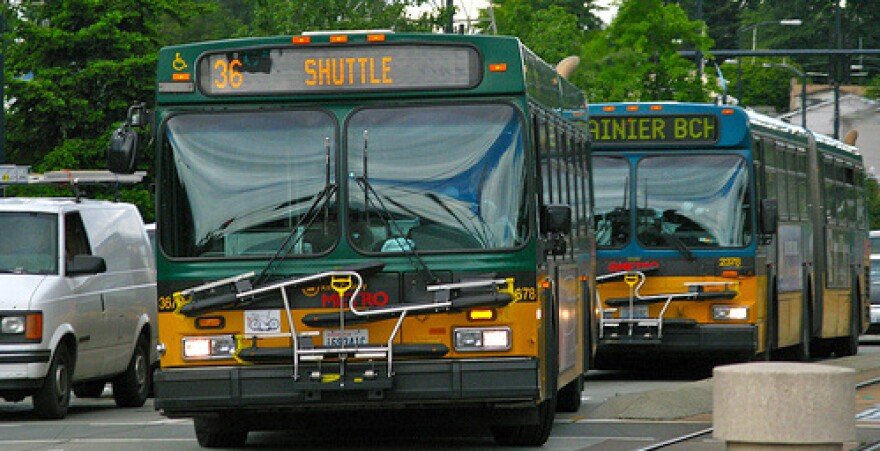 If all goes as planned, commuters in Seattle will likely see more buses on the roads starting in June. A transit service fundingagreement between Seattle, King County and Metro Transit is being finalized and signed this week.
The agreement promises to commuters more frequent service on weekends and at nights, more actual buses in operation and more Metro bus drivers at work.
The proposal is the result of the passage of Proposition 1 last November when voters approved a $60 car tab fee and a 0.1 percent bump in the sales tax. This adds up to $45 million a year for the next six years that the city will use to restore and expand bus service from Metro Transit.
Buying service a la carte like this is something the city has never done before. Seattle City Council member Tom Rasmussen, who heads the council's transportation committee, says more people will soon be able lead a car-free life.
"For example, the C and the D lines that go from Ballard to Seattle, they are going to go to every 7 minutes. And I think we will see more and more people riding transit. It continues to grow, and I think that is wonderful. It continues to reduce congestion on our streets," Rasmussen said.
Rasmussen says one the biggest changes riders will notice is buses being added to busy routes, which means riders are more likely to get a seat and not have a too-crowded bus pass them by.
Prop. 1 also includes $2 million per year to help low-income riders.
One phrase that appears throughout the agreement between Seattle, King County and Metro Transit is "to improve reliability and frequency." A Transit Advisory Board will oversee how the extra $45 million per year is spent.