Highlights From The TD Vancouver International Jazz Festival
Point Grey trombone section.
Brenda Goldstein-Young
The TD Vancouver International Jazz Festival is celebrating its 30th year from June 18th through July 1st. Abe Beeson was there June 26-28 to promote KPLU's jazz streaming service, Jazz24.org.
Over the weekend at the Jazz24 booth in David Lam Park, we met so many wonderful people – existing listeners and new friends. Abe taped interviews with the legendary jazz saxophonist Jimmy Heath, Pink Martini's Thomas Lauderdale and trumpeter Dave Douglas. He also introduced Pink Martini in front of 2,800 enthusiastic fans of the band at the Orpheum Theatre.
Friday morning: School of Jazz studio session
Abe recorded a studio session at The Farm Studios with the award-winning Point Grey Secondary School jazz band and their mentor, clarinetist James Danderfer, under the direction of Brent Taylor. You can read about it and see photos here.
Friday night highlights
We (KPLU Promotions Director and the wonderful Judie Dahl, Marketing Director for the Coastal Jazz and Blues Society) caught the Bria Skonberg Quintet's set at Performance Works on lovely Granville Island.
Bria is now based in Brooklyn but hails from Chilliwack, B.C. Carving an innovative path while honoring the sonic lineage of jazz greats like Louis Armstrong and Dinah Washington, her stunning voice, "both soul sultry and innocent sweet" (All About Jazz) shares centre stage with her equally entrancing trumpet work.
Fresh and free-spirited, her recent compositions blend soul, world beat, and electronics with her formidable hot jazz and swing chops. The band performed classics (like Sidney Bechet's "Egyptian Fantasy") and Bria-penned tunes (like the sexy "Let's Go All In").
Note to self: the next time the BriaSkonberg Quintet comes to Seattle, we simply have to get them in for a live KPLU studio session. The quintet includes Evan Arntzensaxophone/clarinet, Sean Cronin bass, Dalton Ridenhourpiano, and Darrian Douglas drums. After being treated to an unexpected and delightful birthday salute by the band with the audience joining in, Evan sang "If Dreams Come True" (made famous by Billie Holiday and Lester Young). Sean also sang a Fats Waller song with aplomb.
We had to duck out of Bria's set and headed over to The Vogue to catch the Brazilian-born, New York-based, multiple Grammy nominee Eliane Elias. She's known for a sultry and smoldering musical style that blends her Brazilian roots, alluring voice, and superior piano skills.
In a career that spans over 30 years and 20 albums she's connected the worlds of ultra-cool jazz, sexy bossa nova, and timeless pop anthems. Made in Brazil, her first project recorded on her home soil in 31 years, is a thrilling celebration of pulsating bossa nova and samba rhythms, gorgeous harmonies, and Elias' sensual, captivating musicality. KPLU was fortunate to have Eliane in our studios a few years ago for a live studio session. Friday night she was joined by her husband, Marc Johnson on bass, Rubens De Lacorte on guitar and Rafael Barata on drums.
Meanwhile, Abe Beeson was at Pyatt Hall to catch a performance by the legendary saxophonist and octogenarian Jimmy Heath and his quartet. Jimmy has long been recognized as a brilliant instrumentalist and a magnificent composer and arranger. He has performed with nearly all the jazz greats of the last 50 years, from Howard McGhee, Dizzy Gillespie, and Miles Davis to Wynton Marsalis. Joining Jimmy was long-time pianist Jeb Patton, and Vancouver's own Adam Thomas on bass and Julian MacDonough on drums. Earlier in the afternoon, Abe got to talk with Jimmy and he'll post that interview this week.
Saturday highlights
It was hot, hot, hot - which not only describes the weather but the music on the David Lam Park stage. The cooling station was a popular respite from the heat for humans and canines alike. Fortunately, we (the aforementioned KPLU Promotions Director and Abe) were comfortable hanging out in the Jazz24 booth, making its public debut. We greeted listeners who told us they enjoy the variety of jazz we play as well as learning about, and discovering jazz. We handed out Jazz24 swag and our plexiglass cube is filled with hundreds of entries, giving people the chance to win tickets provided by Coastal Jazz and Dimitriou's Jazz Alley, and much-coveted (we kid you not) KPLU/Jazz24 swag package including wearables, a mug, CD's including one that's autographed by Eliane Elias, and the world-famous KPLU blue tote.
The live music included sets by Electric Miles, funk and soul from Dawn Pemberton, and Mazacote, a West coast horn-driven Latin band blending salsa dura with beats from Colombia, Puerto Rico and Cuba.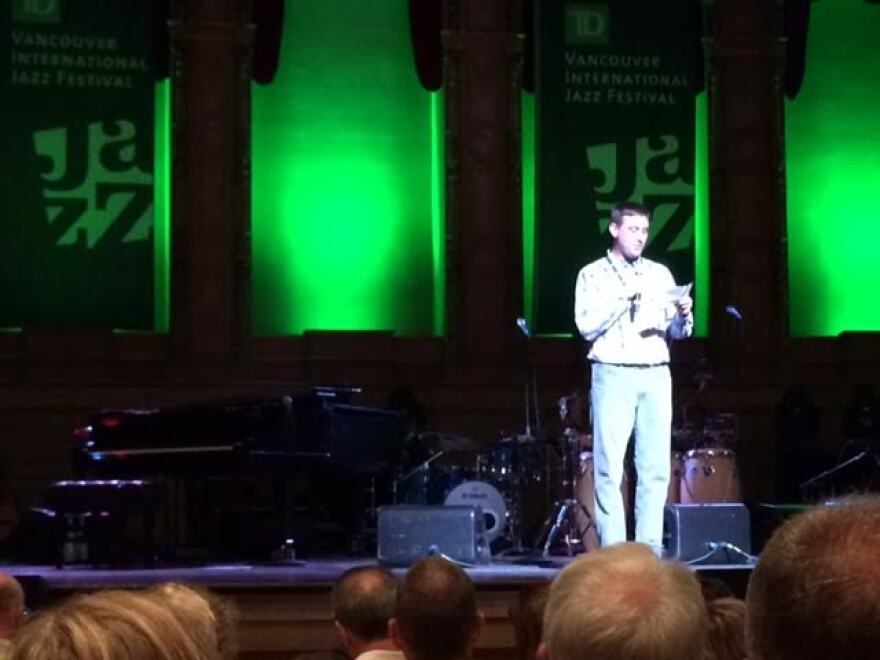 Right before blues singer Shayna Steele's set, we had to leave David Lam Park to grab some sustenance before heading to the Orpheum Theatre for the Pink Martini show. That afternoon, Abe talked with the band's co-founder and pianist Thomas Lauderdale with topics ranging from musical influences to politics. Abe will post the interview this week. It was a very proud moment for KPLU and Jazz24 when Abe stepped out on the stage to introduce Pink Martini before nearly 2,800 fans. The band was in great form; the highlight of the evening was when vocalist China Forbes invited anyone from the audience with the nerve to get up on stage and dance to do so as the band performed the Turkish song Üsküdar'a Giderken. It was magical!
Side note: Abe's scheduled interview with drummer Antonio Sanchez was canceled due to sound check issues. Robin Lloyd will write about her interview with Sanchez from last week, which will be posted on KPLU's Jazz page. Antonio Sanchez & Migration will be performing at Dimitriou's Jazz Alley this Tuesday and Wednesday.
Sunday highlights
It was still warm at David Lam Park today - and the music on the stage was sizzling. First up were students from this year's TD High School Jazz Intensive, a unique program for high school music students to be part of a professional big band. Featuring up to 21 students selected through a "blind" application process from over 150 schools across the Lower Mainland, this free program offers young and budding artists the opportunity to learn from the best and cultivate their talents and networks. During their nine-day residency at the TD Vancouver International Jazz Festival, students rehearse intensively with skilled peers, led by an experienced guest conductor. Students in the program get to participate in workshops with visiting local artists, learning from the best talents in the world. These instructive workshops are also free and open to the general public. TD High School Jazz Intensive band members are also invited to take in select TD Vancouver International Jazz Festival shows…hand-picked to instruct and inspire. What a fun way to experience new musical ideas!
Aché Brasil are equal parts Brazilian music, dance and acrobatics. They're dedicated to promoting Brazilian culture throughout Canada and abroad and seek to achieve a wider public while teaching the art of Capoeira to the community. The Aché Brasil performing group and the Aché Brasil Capoeira academies both strive to bring the beauty of Brazilian cultural art forms to the world through the teaching of capoeira and performances of traditional and popular music and dances from Brazil.
We were really excited to see and hear the Sicilian Jazz Project, so we didn't want to miss this richly evocative melding of Sicilian folk, modern jazz, and chamber music crafted by eight-time JUNO-nominated guitarist Michael Occhipinti. With the magnificent and utterly captivating Franco-Italian vocalist Pilar, musically omnivorous New York clarinetist Don Byron, Louis Simao bass/accordion, and Mark Kelso drums, this is passionate, deeply felt music. We weren't disappointed.
Shortly thereafter, Abe trucked over to trumpeter Dave Douglas' hotel for an interview which he'll post this week. Dave and High Risk (including bassist Jonathan Maron from Groove Collective and drummer Mark Guiliana) are at Performance Works tonight.
Round 'bout 7 p.m., Abe stepped out on the stage to introduce his new favorite band, Troker (pronounced "trucker"). Like a Mexican Jaga Jazzist, these electrifying instrumentalists from Guadalajara create intricately layered post-rock that would make the ideal theme music to an engaging, bewilderingly complicated car chase scene. Jazz, rock, and psychedelia, plus some funk and cumbia come together in a wild and propulsive thrill ride. The crowd was in motion. This show was definitely the highlight of our weekend at David Lam Park.
At this writing, Abe is taking in the Abdullah Ibrahim Mukashi Trio show at the Vogue. Can't wait to hear all about it!
We'd like to give a shout-out to some "super-fans" who stopped by the booth, all of whom live in Vancouver:
Here is a quick clip from the Mazacote show. Enjoy!
https://www.youtube.com/watch?v=xQIic3Gi9L4