Washington State Honors Workers Who Died On The Job, Including Two Teenagers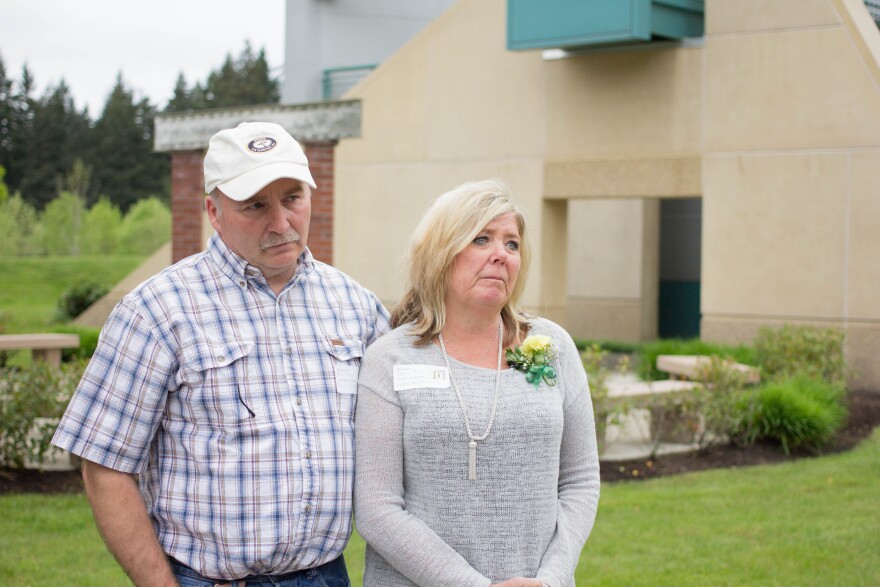 At an annual ceremony, the state remembered 89 workers who died on the job during the past two years.
The deaths ranged from ones in industries known as dangerous, such as logging and truck driving, to high-profile accidents such as the crash of a KOMO TV helicopter near Seattle's Space Needle in March 2014, which killed the pilot Gary Pfitzner, 59, and photojournalist Bill Strothman, 60.
An avalanche on Mount Rainier claimed the lives of two climbing guides, 28-year-old Eitan Green and 38-year-old Matthew Hegeman. Four people perished while working in Oso when the landslide hit: Ronald de Quilettes, a 52-year-old electrician; Steven Hadaway, a 53-year-old satellite TV technician; Stephen Neal, a 55-year-old plumber; and William Welsh, a 66-year-old electrician.
Two teenagers were also among the people killed on the job. Eighteen-year-old Cole Bostwick from Lewis County died in a logging accident. Nineteen-year-old Bradley Hogue of Snohomish County was killed by a rotating auger inside a bark-blower truck. The employer, Pacific Topsoils, was cited for two willful and 14 serious violations by the state Department of Labor and Industries, with penalties totaling $199,000.
L&I Director Joel Sacks says young workers are particularly vulnerable.
"Your risk of being hurt on the job is significantly higher when you first start a job than later on, which is why a lot of what we try to do at Labor and Industries is continue to promote the message that from the day someone starts on the job, safety training's got to come first," Sacks said.
Sacks says his department visits high schools, bringing in workers who have personal stories of being injured on the job. They tell students that it's okay to ask questions and stand up for themselves at work.