Environmental Groups Sue Port Of Seattle Over Lease For Shell's Arctic Drilling Fleet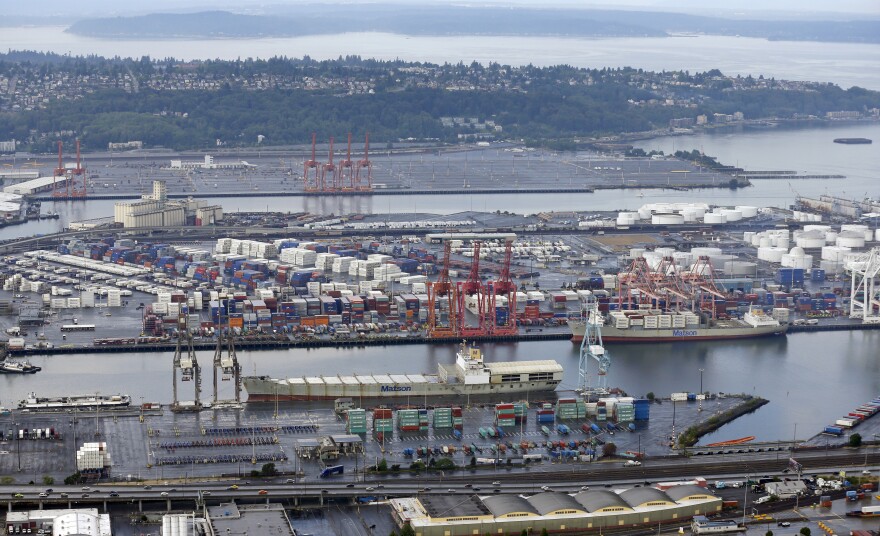 Environmental groups are suing the Port of Seattle over its decision to let Royal Dutch Shell base part of its Arctic drilling fleet here, arguing the port needed to allow more public involvement and violated two state laws.
The port last month signed a two-year lease with Foss Maritime, the company that will manage Shell's drilling fleet here in Seattle at Terminal 5. That terminal has been empty since last summer because the port is planning to overhaul it to allow bigger cargo ships. So this is a temporary use to generate about $13 million.
But environmental groups such as Puget Soundkeeper Alliance and Sierra Club say the port violated state environmental laws by not doing a full assessment of the impacts of putting the Arctic drilling vessels here.
Earthjustice attorney Patti Goldman says the port and its commissioners kept the public in the dark about the lease negotiations.
"The port has violated the public trust by failing to abide by our laws that require these types of controversial decisions to be made on an objective record and with full participation of the public," Goldman said.
The environmental groups say the drilling vessels pose a pollution hazard to the Duwamish River and Elliott Bay and are not the same as cargo ships that are already approved for that terminal.
Foss Maritime spokesman Paul Queary says the use will be the same as for container vessels – loading gear onto and off of ships.
The Port of Seattle says in a statement it believes it's complied with all environmental requirements.
"We are committed to fully comply with any/all requirements and regulations," the port said in the statement.