WA Supreme Court Will Fine State $100K Daily Until Lawmakers Pass School Funding Plan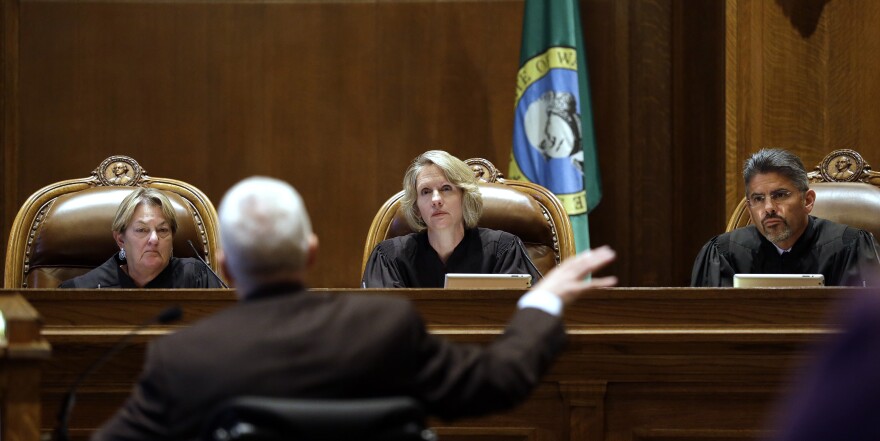 State lawmakers have fallen short again in their efforts to address fundamental problems with the state's school funding system, Washington state Supreme Court justices ruled Thursday, ordering state government to pay a $100,000 fine every day until those issues are resolved.
It's the latest escalation in the ongoing McCleary school funding case. The court found lawmakers in contempt last September, but opted against handing down penalties until now.
The $100,000 daily fines begin immediately. They'll be held in a segregated account "for the benefit of basic education," and will be refunded when state lawmakers pass what the court has sought all along: "a complete plan" to fully fund basic education by the 2017-18 school year.
Even though the fines will accrue quickly, many Olympia lawmakers and policy advisers noted they'll only add up to a modest penalty — around $15 million — by the beginning of next year. It'll likely cost the state more to put out this summer's wildfires than to pay the McCleary fines.
The order, signed by all nine justices, comes on the heels of a special session of the legislature, during which lawmakers approved $1.3 billion in new K-12 funding aimed at meeting several key McCleary demands, which include increased funding for supplies and transportation; class size reductions in Grades K-3 and the expansion of full-day kindergarten.
Their order encourages Gov. Jay Inslee to call another special session of the state legislature to "aid in resolving this matter."
"Everyone understood that even with those historic investments in education, our work would not be done," Inslee said in a statement Thursday.
"The court today," his statement continued, "made it clear that bolder and more aggressive action is needed to support Washington's students and their teachers. The detailed plan the court demands in order to fulfill our constitutional obligation will be more complex and expensive than the significant steps we've already taken."
During a conference call Thursday, Inslee said leaders of the four legislative caucuses — House and Senate Democrats and Republicans — agreed to meet him next week in Seattle.
"There is much that needs to be done before a special session can be called," Inslee said. "I will ask lawmakers to do that work as quickly as humanly possible."
Here's Why Lawmakers Were Fined
The court zeroed in on an issue fundamental to its original 2012 ruling: the state's underfunding of teacher salaries. Since the state doesn't pay competitive base salaries, many local school districts must lean on property tax levies to raise the money needed to pay teachers more competitive wages.
Many lawmakers argue the issue is profoundly complex, and a solution probably requires both raising hundreds of millions of dollars to increase teacher pay and an overhaul of how local property taxes fund schools. Lawmakers did float varying proposals to address the problem the last session, but mostly as discussion pieces that never got out of committee.
"The bottom line is that none of these proposals was enacted into law, and they remain, in the State's words, only matters of 'discussion,'" justices wrote. "We have, in other words, further promises, not concrete plans."
Justices noted lawmakers did make "significant progress" in some areas, meeting targets for increased funding for classroom materials and supplies.
But while the budget includes more money for full-day kindergarten classrooms and class size reductions in Grades K-3, justices say "it is unclear" whether lawmakers have appropriated enough money to build the extra classroom spaces these reforms will require.
How We Got Here
In 2007, Chimacum parents Matthew and Stephanie McCleary joined another family — the Venemas of Snohomish — and a coalition of school districts, local teachers unions and interest groups in suing the state for underfunding K-12 schools.
Their argument invoked the state Supreme Court's 1978 ruling in Seattle School District No. 1 v. State, which required the legislature to outline what constitutes a "basic education" and then find a stable way to pay for all children to receive one.
Central to that three-decades-old ruling was the finding that Washington state did not give its schools enough money to cover basic costs, leaving school districts little choice but to raise their own property taxes to cover costs ranging from teacher salaries to classroom supplies.
In 2010, a King County judge handed down his ruling in the case, finding little had changed in the three decades since the Seattle School District ruling.
"State funding is not ample, it is not stable, and it is not dependable," the judge wrote.
The Original McCleary Ruling
On appeal to the state Supreme Court in 2012, justices sided again with the plaintiffs. They ruled it was the state's responsibility to cover basic educational expenses.
Justices ordered lawmakers to find the money to — as they had promised in earlier House Bills 2261 and 2776 — reduce class sizes, cover the true costs of basic school operations and supplies, expand full-day kindergarten access and improve student transportation.
Justices also said it's unconstitutional for the state to rely on local levies to fund teacher salaries.
"If the State's funding formulas only provide a portion of what it actually costs to pay its teachers, get kids to school, and keep the lights on," the high court wrote in 2012, "then the legislature cannot maintain that it is fully funding basic education through its funding formulas."
Will The Fines Spur Immediate Action?
Some state lawmakers took to social media to express their frustration with the court's decision.
"The Washington Supreme Court has gone rogue. Time for articles of impeachment." tweeted Rep. Matt Manweller, R-Ellensburg.
Rep. Chad Magendanz, R-Issaquah, said his preference would be to simply wait until the next regularly-scheduled session of the legislature to resume work on teacher compensation and property tax levy issues that lawmakers began during the last special session.
"After 176 days, I think the legislature is a little burned out," Magendanz said. "I would rather have fresh minds come to the task" next winter, rather than tackle the problem during yet another special session this fall.
Rep. Drew Stokesbary, R-Auburn, advised against arriving at a hasty solution. The Court "wants a hare, [the legislature] is a tortoise," he tweeted. "Who wins again?"
But state schools superintendent Randy Dorn praised the court's action, though he wished justices would've leveled fines against the individual legislative caucuses. He says the legislature cannot afford further delay.
"Nothing would be hasty now. We've been at this for five years. They've had a chance. They know the issue. It's just that it's a tough issue," Dorn said in an interview. "There's no 'easy' button here. This is going to be excruciatingly painful."
This post has been updated to include more information about the size of the fines and additional reaction from the governor, Rep. Magandanz and Superintendent Dorn.