As McCleary Case Drags On, What Will The State Supreme Court Do Next?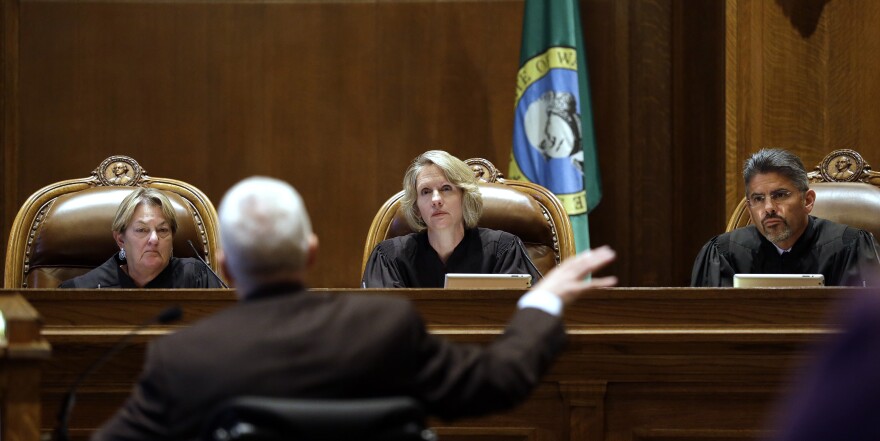 Lauding recent increases in state education funding, but ultimately admitting they still have more work to do, state lawmakers have filed an update with the state Supreme Court on their progress toward fulfilling the McCleary school funding mandate.
Now, everyone's wondering what the court will do next.
While lawmakers did approve more than $1.3 billion in new funding for schools in their latest state budget, the McCleary case also requires lawmakers to end school districts' over-reliance on local property tax levies. Though levy dollars are only supposed to cover extras in schools, districts have been forced to use the money to cover basic expenses.
But state lawmakers adjourned this past session without passing legislation to address the issue — a key piece of the "complete plan to fully fund basic education" justices mandated in their McCleary order.
"A plan per se has not been adopted here," said Sen. David Frockt, D-Seattle, at a meeting of a joint legislative committee last week. "I think that's something we're going to have to deal with, and we're going to have to find out how the court will evaluate that."
In a joint op-ed in Sunday's Seattle Times, House Appropriations Committee Chair Ross Hunter, D-Medina, and Rep. Chad Magendanz, R-Issaquah, say their colleagues will need to show "political courage" to tackle the thorny issue.
Democrats, who largely hail from urban districts, have balked at revenue-neutral "levy swap" proposals, which would have the principal effect of raising property taxes in urban districts and lowering them in rural areas. But Republicans have bristled at Democrats' alternative: a capital-gains tax hike that would help close the funding gaps between property-rich and property-poor districts.
"In our opinion, the most practical intervention may be simply providing a hard, but achievable, deadline," Hunter and Mangendanz wrote.
But Hunter said at a recent meeting that lawmakers have made progress on the issue.
"It is clear when you talk to the people involved that we've largely come to agreement on a lot of the key elements of that, and we can move forward expeditiously in the next session," Hunter said.