Tacoma captured Chandler O'Leary's heart. Now, the late artist is part of the city's creative fabric
Chandler O'Leary was an illustrator, a lettering artist, a graphic designer, a printmaker, a writer. She could have taken her talents anywhere. Tacoma was her chosen home, and her work is part of the fabric of the city.
O'Leary died unexpectedly last month at the age of 41, following a sudden and severe case of pneumonia.
KNKX South Sound reporter Kari Plog has this story about O'Leary's life and work — and her legacy in the Grit City.
Listen to the audio story above. A written version of it can be found below.
When Chandler O'Leary married her husband, Donald Sidman, on a sunny, chilly day in St. Paul, Minnesota, she wore an orange dress.
"And of course, she would be very angry if I called it orange, because nothing is ever just orange," Sidman said. "I don't know, is it cantaloupe? Was it salmon? Was it tangerine? I guess tangerine, maybe. Nothing is ever just orange. Colors were very important to her."
That was immediately clear as I watched a video of a talk O'Leary gave to fellow artists, not long before she died on April 2.
By the time I saw this presentation, I had heard from so many people about how O'Leary was a master of her craft — many crafts, actually.
This particular talk was about the craft of letterpress printing. But she wasn't just talking about mixing ink or the precision of proper color registration. She was giving a history lesson.
O'Leary: This is Queen Lili'uokalani. She was the last monarch of the kingdom of Hawaii…
Dorothy Parker who is a writer…she founded the Hollywood anti-Nazi league…
Eco-feminist Wangari Maathai…she was the founder of the Green Belt Movement back in the 1970s…
Mary Holste was a fan first, but quickly became close friends with O'Leary.
"She had a very active sense of justice," Holste said. "And had, I think, a mission in her mind to get people aware of things that were happening in the world, make sure that they knew about these amazing dead feminists."
Dead Feminists. That's the title of a series of broadsides — letterpress posters — that O'Leary is probably best known for in Tacoma. It started in 2008, just as the presidential election was happening.
"There's all this talk about Sarah Palin and her crazy glasses," said Jessica Spring, another letterpress artist and co-creator of Dead Feminists.
Both women hated all the talk about what this vice presidential candidate was wearing.
Then, Spring found a quote from Elizabeth Cady Stanton: "Come, come my conservative friend. Wipe the dew off your spectacles and see the world is moving." She asked Chandler to draw some glasses.
But O'Leary was the first to admit that she wasn't very good at following art direction. She drew those glasses, and the entire quote, by hand.
The rest is history, as they say.
Dead Feminists Broadsides have been printed, in limited quantities, ever since. The creators eventually turned some of the broadsides into a book, featuring famous women like Eleanor Roosevelt and Harriet Tubman — and less famous women, like Thea Foss.
Yes, that Thea Foss, the name of Tacoma's working waterfront.
Water was a constant source of inspiration for O'Leary, especially here, in her home.
"I think Tacoma is the most spectacularly wonderful place and that those the people who come here and notice, and celebrate its specialness, thrive," said Amy McBride, who leads Tacoma's Office of Arts and Cultural Vitality. She worked with O'Leary a lot over the years.
McBride remembers one time, meeting with a group of artists at the Old Town Dock on Tacoma's waterfront. All of them were competing for a public art commission there. O'Leary was one of the finalists.
"And typically, you know, most people have their cameras and they're taking different pictures," McBride recalled. "She had her sketchbook, and she stood at the end of the dock and just drew."
That sketchbook was O'Leary's window to everything around her, a sort of travel journal as she explored as much of the world as she could.
She would take long road trips, sometimes driving thousands of miles by herself. She turned some of those drawings into several travel books.
But it was her corner of the world — Tacoma and its arts community — that captured her heart.
"We totally connected on Tacoma not being so fancy like Seattle. We kind of loved that we're kind of underdogs here," Spring said. "And we also loved the energy. That if you have an idea — whether it's to start a printing festival or to start a series about really cool things that women in history said — people are on board here. There's not a million barriers. You can make it happen."
You can do letterpress printing with a steamroller, or hide glass art around town, or plaster posters around neighborhoods for people to tear down and bring home.
Tacoma is a canvas for anyone who takes notice.
O'Leary splashed her work throughout the city: downtown, Lincoln District, Central Tacoma, East Tacoma, North Tacoma. I could describe the illustrations and hand-lettering to you, but she would probably want you to spend time in the city and see them for yourself.
Then, there's the Old Town Dock. Those sketches she made all those years ago, they're now an art installation called Droplets — 24 medallions, placed at virtually every vantage point, some you can only see from the water side.
When it was unveiled in 2013, O'Leary wrote that these droplets are little stories — as commonplace as raindrops, as precious as the water that defines and sustains the city.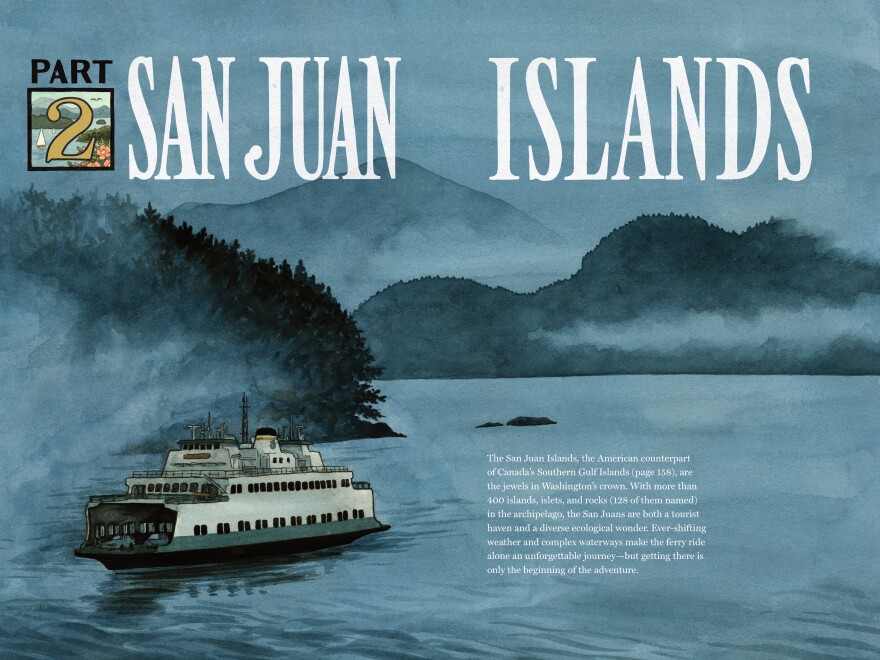 At their home in North Tacoma, Sidman shows me one of his wife's favorite water views: the one from her studio. Sitting on the desk is a copy of her latest travel book, "On Island Time," an atlas of the islands of Washington and British Columbia. It's filled with roughly 600 watercolor illustrations.
It came out right before O'Leary died.
"We read her last book out loud together," Sidman said. "Books are meant to be read out loud. It gives more meaning to the words. We remember them more."
Sidman shares one passage of this new book, out loud, before I go:
Though it's hard to play favorites in this beautiful corner of the world, My heart belongs to the islands. My small home studio in Tacoma, Washington, overlooks Commencement Bay and Maury Island. And on summer nights, a pair of lighthouses flashes through my open windows, casting a faint glow onto my bedroom walls. For me, the islands represent a constant dance of home and away. I visit often enough to feel a sense of stewardship. Yet my mainlander status keeps the islands just unfamiliar enough to never lose their getaway feeling. Instead of the coffee shop, the ferry is often my third place where I go to clear my head or work out new ideas. There's always a saltwater view and plenty of fresh air.
Standing at the end of the Old Town Dock — on a warm spring day — people in swimsuits are sunbathing and taking in that saltwater view, in the same spot where O'Leary stood over a decade ago, sketching, imagining a story she would tell about this place.
Right next to them is one of O'Leary's droplets: a tiny medallion with a hand-drawn harbor seal. It's a reminder to stay awhile, and really notice.
The public is invited to gather at Old Town Dock on May 13 to remember Chandler O'Leary. The event begins at 1 p.m. The University of Puget Sound is also hosting an exhibit featuring O'Leary's work at the Collins Memorial Library. "Drawn to Tacoma: The Illustrative Art of Chandler O'Leary" runs May 10-24, with an opening reception on May 12 from 4 to 6 p.m. The Dead Feminists broadsides series will be on display through August in the Woolworth Windows, an art installation at 11th and Broadway in downtown Tacoma.