Perfect combination of weather conditions produces especially spectacular fall colors
Pedestrians walk under trees loaded with turning autumn leaves, Thursday, Oct. 24, 2019, in Tacoma, Wash. Following a period of rain earlier in the week, the sun was out Thursday for a full display of fall colors.
Ted S. Warren / AP Photo
Stunning fall colors in Leavenworth last week.
Tim Durkan / Tim Durkan Photography
This fall, the Puget Sound region has graced residents with an abundance of clear and crisp sunny days – classic fall weather. And the colors displayed on fall foliage have been exceptionally stunning, says KNKX weather expert Cliff Mass.
"Why go to New England when you can stay right here and enjoy the colors?" Mass said, adding that he was getting so many comments about the bright yellows and vivid reds of the leaves all around him, he decided to investigate whether there is a meteorological explanation for the display.
He consulted the U.S. National Arboretum and found there are a number of weather features that lead to good fall colors. This year, he says, they all came into place in the Puget Sound region over the past month or so.
PRODUCING GOOD COLOR
The first thing, he says, is you don't want unusually dry conditions. You need a moist growing season.
"You don't want drought conditions during the summer and early fall. That's bad for leaf color," Mass said. "The leaves come off the trees too early, they don't have time to develop the full color."
Puget Sound had normal to wetter-than-normal conditions this summer, including some periods of heavy rain in September.
Second, Mass says, temperatures need to be right.
"You don't want frost – frost is bad. That causes the leaves to fall off too soon and the colors are not good," he said.
We didn't have frost, instead, we had the relatively warm temperatures during the day with enough cool periods at night to help boost the color.
"And if you remember, a few weeks ago, we had that cool period – didn't get to frost, but we had some cool morning temperatures," Mass said. "And our highs have often been at normal or a little bit above normal, as well."
Finally, he says some sun during the day is important for producing good color: "And – except for that rainy period last week – we've had a substantial amount of sunshine: normal or even above normal during some periods."
Mass says it all adds up.
"All the features came together to give us really the best color that I have seen in years around here," Mass said.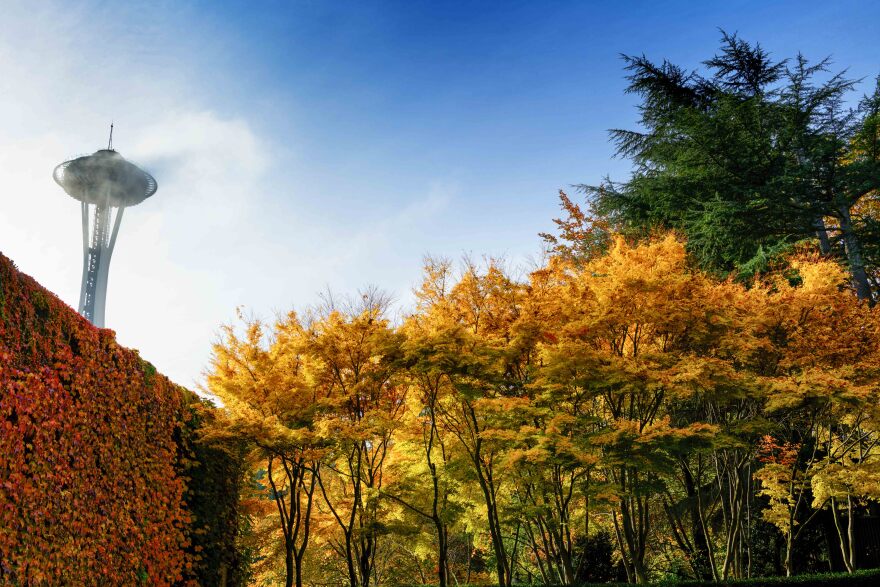 GREAT WEATHER AHEAD
Because of recent rains, Mass expects the leaves to stay on the trees for a while longer.
"I think the next five days, when we have lots of sun, will be one of the most wonderful times out there to look at those beautiful fall colors," Mass said. "We're going to have perfect weather to do that."
Cliff's Forecast:
Friday: Cloudy with showers. Temperatures in the mid- to upper-50s. A weak front will cross the coast in the morning, rain will move inland from the area around Quileute, bringing precipitation to the Puget Sound around midday for a few hours.
Saturday- Wednesday: Cooler, drier air moves in. "And I expect each day to be very similar for the next five days," Mass said. Morning clouds, sunny skies after they burn off. No fog expected. Temperatures in the mid-50s.
"Perfect fall weather," he said. "Virtually no chance of precipitation."
Weather with Cliff Mass airs at 9:02 a.m. Friday, right after BirdNote, and twice on Friday afternoons during All Things Considered. The feature is hosted by KNKX environment reporter Bellamy Pailthorp. Cliff Mass is a University of Washington professor of atmospheric sciences, a renowned Seattle weather prognosticator, and a popular weather blogger. You can also subscribe to podcasts of Weather with Cliff Mass shows, via iTunes or Google Play.