Visit Southeast Alaska For Nature, History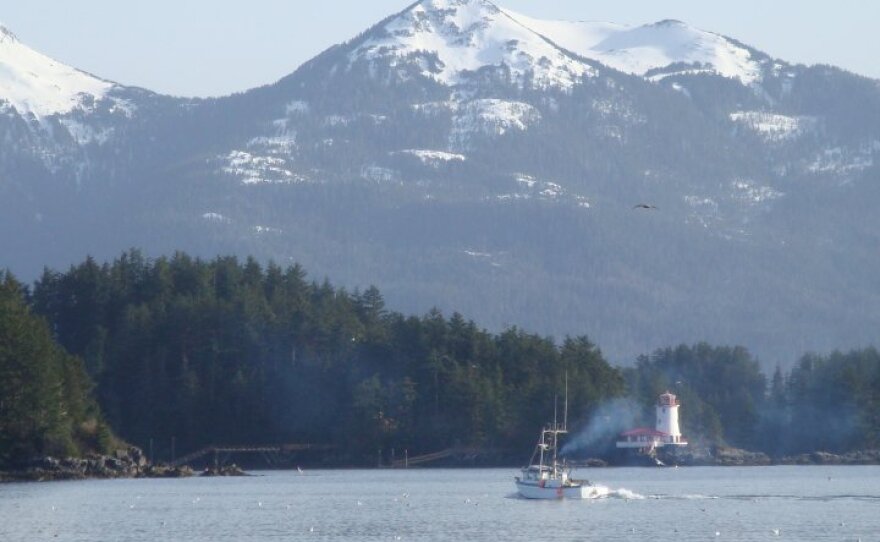 Southeast Alaska's small towns border big nature. This picture is from Sitka, and is typical of the scenery throughout the Alaska panhandle.
Ed Ronco / KPLU
In Ketchikan, the Creek Street boardwalk is designed to take you back into the city's history. It's popular especially among cruise ship passengers, who visit the city every summer.
Ted McGrath / Flickr
On the ferry ride into Alaska, the on-board interpreter will point out fjords and islands, whales, seals and plenty of statistics about the 49th state.
"If Alaska was cut in half," they're fond of saying, "Texas would be the third-largest state."
If Alaska were superimposed on the Lower 48 states, it would stretch from the Georgia coast and up into Minnesota. The Aleutian islands would reach beyond New Mexico and Arizona.
For visitors, that means there's a lot to see. We're focusing only on southeast Alaska, the panhandle nearest to western Washington.
Where To Go
Fly into Juneau, the state capital. It's an incredibly picturesque city that offers alpine views courtesy of the Mount Roberts tram. Visitors also flock to the nearby Mendenhall Glacier. From Juneau, you can fly or take a ferry to other nearby communities.
Haines offers skiing and hiking. Skagway is north, and full of gold mining history. Sitka is the site of the U.S. acquisition of Alaska from Russia in 1867. Ketchikan's Creek Street is a historic boardwalk that will take you back in time. Petersburg is a picturesque fishing village. In Wrangell, you can get up close and personal with bears and visit the newly restored Chief Shakes Tribal House.
Cruise ship passengers often stop at Icy Strait Point, a newer attraction that includes a huge zipline, near Hoonah. And farther afield, in Yakutat, you'll find an annual festival for birders celebrating the Aleutian tern, plus some of the panhandle's best surfing.
All of the destinations offer connections to nature and opportunities to fish. And each is rich in Alaska Native history that tells the stories of the region's first residents. You'll find opportunities to learn about Native culture almost anywhere. Look to Juneau's Sealaska Heritage Center for lots of information, too.
And this is important to remember: Each of these communities are more than the sum of their visitor attractions. The best experiences in Alaska come from taking your time, talking to locals and learning about the communities you visit.
When To Go
Summer is the most obvious and popular time to head into Alaska, and will provide you with the most opportunities to explore. Springtime is nice, too, especially in places like Sitka, where the whales are often visible from shore as they come in to feed on spawning herring. Avoid fall, when the weather turns windy and the rain turns horizontal.
Southeast Alaska has a climate similar to western Washington's, with wet weather that can change quickly. Bring layers so you can adapt easily to whatever the day decides to do. It's a little cooler on average than the Puget Sound area, but hardly the arctic temperatures normally associated with parts of Alaska further north.
Getting There
Most communities in Southeast Alaska are isolated, with no roads in or out. That means getting there involves flying or going by sea.
Alaska Airlines operates direct flights out of Seattle to Juneau, Ketchikan and, in the summer, Sitka.
The Alaska Marine Highway sails a ferry from Bellingham. It's a fun, leisurely way to go with plenty of nature and wildlife to watch along the way, but the trip can take more than a day. On the ferry, you can reserve a state room, or bring camping gear and sleep under a covered portion of the deck.
And then there are cruise ships. An Alaskan cruise can be expensive during the summer, but is often just a few hundred dollars in the shoulder seasons, May and September. It's a fast way to see lots of cities, and they leave from Seattle. Royal Carribbean, Holland America, Princess and Norwegian all take ships up the Inside Passage.
---
Going Places is KPLU's travel segment, covering everything about getting from Point A to Point B. Each week, travel expert and Earthbound Expeditions founder Matthew Brumley takes listeners through great destinations and insider tips. This week, KPLU's Ed Ronco chimes in on Southeast Alaska, where he lived for four years.