Citing wildfire risk, Spokane to thin 1,000 acres of urban forest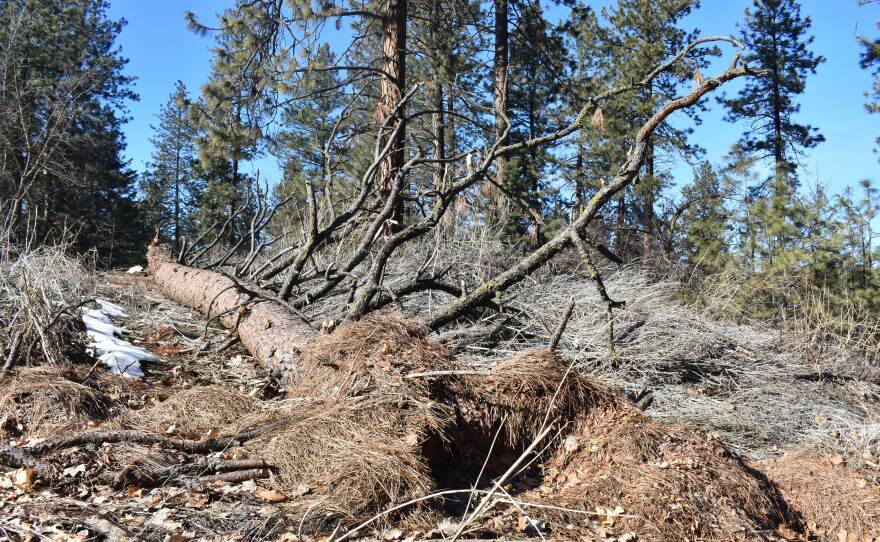 Fire officials are working together to thin at least 1,000 acres of urban forest in and around the city of Spokane. Spokane is one of many communities across Washington at extremely high risk of catastrophic fire because of development into natural, or forested, areas and climate change.
Spokane Public Radio's Rebecca White visited an urban forest area that needs to be treated to protect the surrounding homes and apartments from wildfire.
The area, near Spokane's Indian Trail golf course, has Ponderosa pines that are hundreds of years old, and have survived multiple wildfires. There are also many more small trees, less than eight feet tall, clustered together tightly and siphoning water and other precious resources away from the larger, older trees.
Steve Harris, a natural resource manager with the Washington State Department of Natural Resources, said the small trees are vulnerable to fire, but they're only part of the problem. He said the thick layer of pine needles across the forest floor, known as duff, is just as dangerous. In the area we visited, it was six inches deep.
"Well here we go, here's the tree root," Harris said as he dug through a bed of pine needles. "What happens is when fire comes through, even if we thinned this out and opened it up, this heavy duff layer, fires will burn down and now these tree roots are growing up into this material here, in the summer, this stuff would be bone dry and it would bake these tree roots. This tree might survive the initial attack, but hours of smoldering through this duff layer will bake these roots. Fire before would come through and keep the forests clean."
Harris said the agency has done prescribed burns elsewhere, in more rural areas, but can't safely burn in urban areas like this one.
"We get used to our trees being thick, and overgrown really," he said. "So people don't really like to see trees getting cut down necessarily, but the historical nature of Ponderosa forests is they naturally thin with fire, they grew up with fire. So they're in an unnatural state. We're trying to help these forests get to a natural state, where fires aren't catastrophic."
The greater Spokane area has already experienced at least one catastrophic wildfire event, the firestorm in 1991, when 60 mile-an hour winds fueled more than 90 separate fires. Fire officials blamed a rapid population jump, an unusual weather pattern and overgrown forests, according to an interagency report of the incident.
Nick Jeffries, the wildland resource planner for the city of Spokane Fire Department, said the region is still at risk of a firestorm-like event.
"If you look back at the historical data, we're getting hotter and dryer, we're having prolonged fire seasons, and we're having more intense wildfires when we are having them," he said. "Just because we had a light season last year, doesn't mean that's going to be a trend for this year."

Local and state fire officials are addressing the problem on two fronts. Harris said the partnership with the city of Spokane is an opportunity to reduce fuels on public lands and train firefighters. He said similar fuels reduction work is also happening in other communities across the state.
Even if the city meets its goal of thinning 1,000 acres of public land over five years, it likely won't be enough.
Jason Cirksena, the community resilience coordinator with the Department of Natural Resources, said overgrown privately-held lands also put communities at risk. He said wildfires are now spreading into areas that haven't been in danger in the past, and all landowners need to take precautions.
"As we start to come out of winter, start early, we don't want to wait until we get into mid-to-late spring, or even the summer," he said. "Start now, and make a plan, take a day, a weekend, pick a weekend, one a month, two a month, and take that time to really work on your property and your home, and defend it from these potential impacts."
He said the agency now has a program, Wildfire Ready Neighbors, which can assist property owners in making long-term plans to protect their land from fire.
Wildfire ready neighbors has been available in Eastern Washington for several years, but is now being offered in western Washington as well.
According to the department's strategic plan, the communities at the highest risk are mostly in eastern Washington. With climate change and encroachment into natural areas, agency officials say everyone should be preparing for fire.
This story was changed on March 6, 2023 to correct Nick Jeffries title.
Copyright 2023 Spokane Public Radio. To see more, visit Spokane Public Radio.