Lummi tribe continues pressing for return of Puget Sound orca held captive for 50 years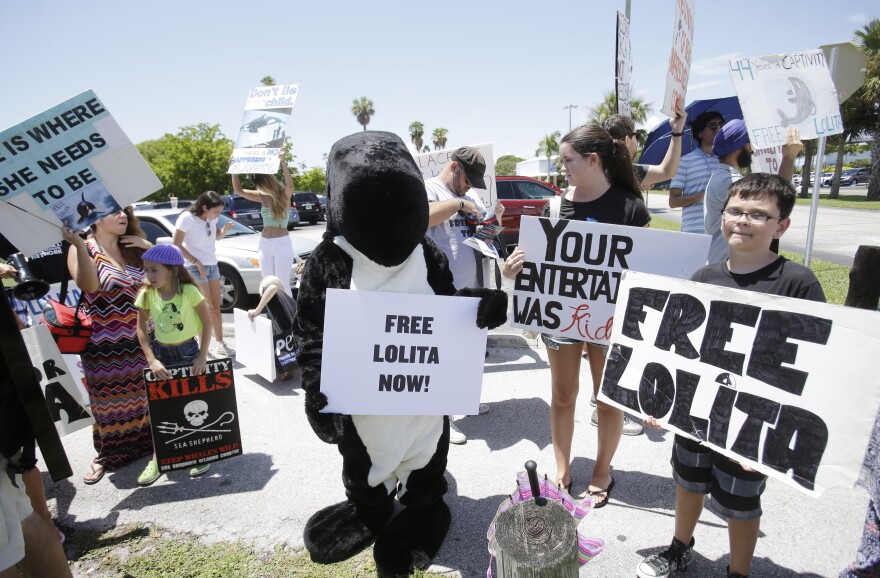 Fifty years ago this week, the killer whale some call Lolita arrived at Miami Seaquarium. She was captured at Penn Cove, in the waters off Whidbey Island, in early August 1970, along with dozens of other young orcas.
Sold for about $20,000, she arrived in Miami on Sept. 23, where she received her stage name and has lived ever since, in an 80-by-35-foot tank. Originally named Tokitae by her trainers, she is the last surviving Southern Resident orca in captivity.
The Lummi tribe has led a multiyear campaign to bring her home. They recently renamed her Sk'aliCh'elh-tenaut (pronounced, roughly, 'SKULL-ee-CHUCK-tuh-NUT,') a name that references the tribal village near Penn Cove where she was captured.
Together with partners in the Orca Network and the Whale Sanctuary Project, the tribe plans to bring her to sanctuary waters off Orcas Island and eventually reunite her with her family and her presumed mother, 92-year-old L-25, Ocean Sun.
Two Lummi elders traveled to Miami this week, where they held a ceremony on the water just outside her tank to show their solidarity. They chartered a boat and shared video of the ceremony in an online event.
A member of the local Seminole Tribe joined them and played a wooden flute as they ventured as close to Lolita's tank as they could get and laid a wreath of cedar boughs brought from home into the water. It was meant to signal their presence with its scent, along with the music, carrying across the water.
Raynell Morris is one of the elders. She led the ceremony on the water and drummed as she cried out to the whale.
"You know you're not alone. We love you. Your people love you. Your mother wants you home," Morris exclaimed, promising the captive orca she has not been forgotten.
It was an emotional ceremony, and Morris appeared close to tears multiple times. She and Ellie Kinley, who also traveled to Miami for the ceremony, filed suit last year under federal law, demanding Lolita's repatriation as members of her extended family.
The Lummi view the Southern Resident orcas as their relatives beneath the sea. For them, Sk'aliCh'elh-tenaut is like a kidnapped niece or daughter, sold into captive labor, confined and isolated from her family for decades.
"We're sorry," Morris cried out on the water. "But it won't be long. You need to ready your spirit…you'll have a long trip… we'll bring you home."
They're working with the Earth Law Center to press for her release under international indigenous law and the growing rights-of-nature movement. They say the campaign has now collected more than 615,000 signatures on 20 different petitions.
During the online event, the Lummi also shared videotaped ceremonies of solidarity from Indigenous communities around the world and a statement of support from Miami-based Florida International University's Global Indigenous Forum.
The Miami Seaquarium did not respond to a request for comment. In the past, Seaquarium has argued it would be harmful to move Lolita from her current home and could be fatal.
Puget Sound's Southern Resident orca population is struggling under a triple threat of toxic pollution in the marine habitat of the Salish Sea, noise and disturbance from vessel traffic, and scarcity of food — as the numbers of their preferred prey, endangered Chinook salmon, are also dwindling.
The latest count puts the Southern Resident orca number at 74, including two new births this month to J-pod. The news was confirmed by the Center for Whale Research on Friday morning. It's the second calf of 15-year-old J-41, Eclipse. She was sighted with her newborn Thursday night in Canadian waters.
On Sept. 4, a male calf who is reportedly doing well was born to J-35, Talequah — the orca who famously grieved the death of her newborn in 2018 by carrying its corpse through the water for an unprecedented 17 days.
The Center for Whale Research cautions that about 40 percent of newborn orcas do not survive their first few weeks.