Five Things You Should Know About The Art of Steelhead Fishing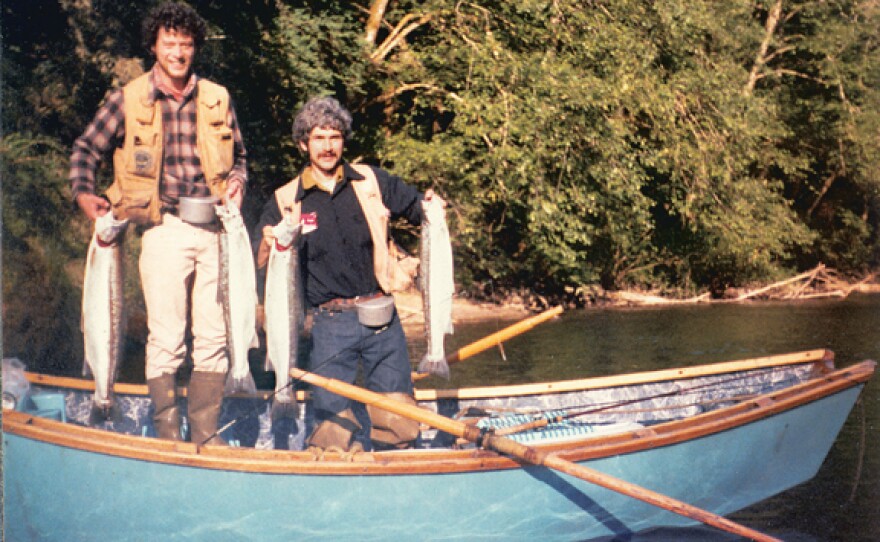 Author Sean M. Gallagher with Principle Photographer, Greg McDonald, in their college days.
courtesy Wild River Press
Gallagher with a Skamania summer-run steelhead caught on a McClead Ugly before the state began clipping the adipose fin on hatchery fish.
Courtesy Wild River Press
Sean M. Gallagher learned bait fishing from his mother, but came of age angling for big steelhead with flies.
Courtesy Wild River Press
The author's son, Brady, to whom the book is dedicated.
Courtesy Wild River Press
Author Sean M. Gallagher with hotelier Howard Johnson.
Courtesy Wild River Press
Sean M. Gallagher grew up fishing steelhead. He's one of hundreds of sport fishermen who spend hours on riverbanks, seeking out the sparkling skin of rainbow trout known as steelhead.
Like some salmon, they come back from the ocean in winter to spawn upriver. But while salmon turn red and die when they return to their origins, steelhead live for several years in fresh water and get bigger — as big as 40 pounds while they are traversing regional rivers.
Gallagher, a first time-author, shares "the lures and lore of a Pacific Northwest icon" in his new two-volume book titled "Wild Steelhead." We asked him for a primer on the fish he loves so much.
1. Steelhead Fishing = A New Window Into Nature
For many steelhead anglers, it's not just about catching fish; it's also "an excuse to be close to nature," says Gallagher.
"When I'm out there on the river, it's like nature's cathedral. It's a spiritual place for me, a place where I can pray, a place where I can feel comfortable and at peace. And when the steelhead are coming back, I have a sense that everything is right," he said.
The sight of a white belly of a steelhead can fill you with life, even on a cold, dark winter day, says Gallagher.
"Things may seem like everything's dormant or dead," said Gallagher, "but when you hook that steelhead and you feel the life, you start to warm. And if you get that steelhead in and it gets close to shore, it's like it brings the sun with it and it warms you up."
And for those who choose to flyfish for steelhead, there's the experience of being in the river, among the fish.
"For me, I delight in the feel of the river pressing up against my legs, and the coolness of the feel through the waders," he said. "I like to walk through the forest and come to the river. I feel like I can sneak up on nature."
2. Where to Fish? That's A Secret
Most steelhead anglers don't like to share the location of their favorite fishing holes, though steelhead can be found in local rivers.
The most skilled anglers learn all about the life cycle of the fish they're after, as well as the patterns of the landscapes they inhabit. Well-paid guides know where to find them based on the water levels in the river and how it's running, as well as temperatures and depth of water. They choose bait or flies based on what they think would be naturally-occurring at the moment, or go flashy just to catch the steelhead's attention.
3. Some Anglers Name Their Flies
Fly fishermen are known to playfully poke fun at and/or pay tribute to each other with the flashy "bugs" they assemble and attach to their lines in hopes of catching the attention of steelhead. These creations are often named after their friends.
"What happens, I think, is your buddy starts putting your name to that fly, and pretty soon, it sticks," said Gallagher.
Gallagher, for instance, has "Sean's Prawn," which he describes as "a variation of a fly that was made for Atlantic salmon fishing."
4. Many Anglers Catch and Release
These days, sustainability-minded anglers catch and release the wild steelhead they reel in. "Love 'em and leave 'em" is a line you hear some of them repeat. They may pose for photos with the catch, but they then let the fish swim away.
Gallagher himself releases all steelhead he catches.
"I think in this day and age that wild steelhead should be released. I can't think of any place where we should be keeping 'em. I wish that wasn't so, because I think the best way to celebrate a steelhead is to actually take care in preparing it and eating it. But we have salmon that we can do that with, and we have some hatchery steelhead we can do that with," he said.
5. Once A Food Source, Steelhead Runs On The Decline
U.S. steelhead runs have dropped dramatically in the past century. Just one hundred years ago, more than 100,000 native steelhead spawned in the Skagit River. Fifty years ago, that number had diminished to 30,000, and now, the run may be as few as 3,000.
Steelhead fishing was once a source of food for people in the country. Early settlers in the Skagit valley used to pitchfork steelhead in small tributary streams and filled wagons with them to use as fertilizer. Now the estimated value of a sport-caught wild steelhead exceeds $1,000.