Families wait to find out about in-person special education services during remote school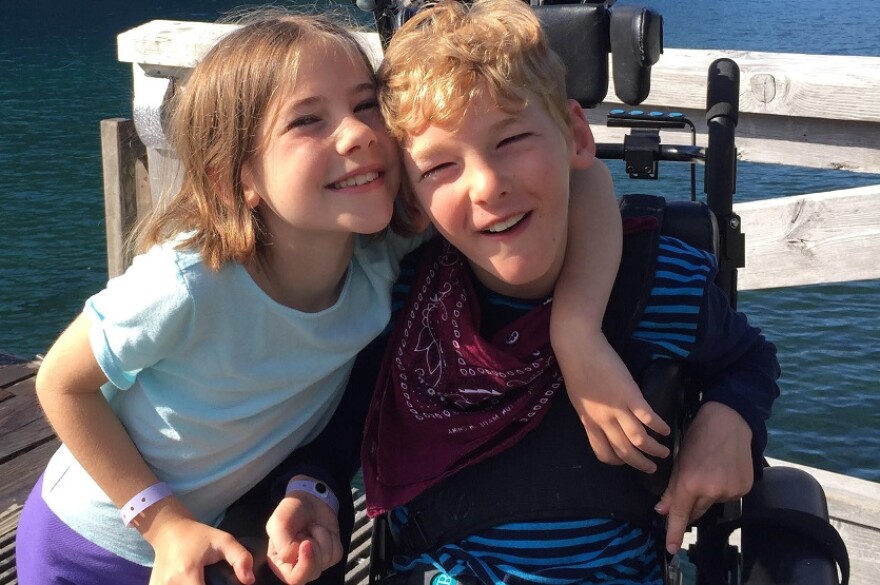 As school kicks off remotely in much of the Puget Sound region, one big question is what kind of in-person services will be offered to students with special needs. It's a pressing topic for many parents, especially if their children require a full-time instructional aide.
Daniela Hall's 12-year-old son Dempsey is starting sixth grade at Denny International Middle School in West Seattle. He has cerebral palsy and uses a wheelchair full time. At school he has a one-to-one instructional aide who helps with feeding, practicing standing and personal hygiene, but during remote schooling, those tasks fall to Hall or her husband.
"It's an impossible situation at home because he needs help all the time," she said. "So then I'm in a position or my husband is in a position where somebody has to help him or be available all the time. In addition I have to work."
Across the state, roughly 150,000 students qualify for special education services, and districts receive extra funding from the state to cover those costs. Districts are still receiving the extra funds, and they're required under federal law to provide what's known as a free appropriate public education. But it's still not clear how districts will fulfill their obligations to students who ordinarily receive services that often involve direct physical assistance, for example, with physical or occupational therapy.
Hall said she'll likely not pursue in-person special education for him because she and her husband are worried about possibly exposing Dempsey's grandmother to the virus. But with remote school, Hall said she's scaled back her expectations for his academic progress.
"I can't help but think that a lot of the schooling is just going to fall by the wayside because there's just no way we can do it without a person coming to the house to help my son out," she said.
Tim Robinson, a spokesperson for the Seattle school district, said in-person services will be determined on an individual basis in consultation with students' families. He said plans are not finalized yet, but he estimated that 300 or so students will probably receive some services on site. About 8,000 to 8,500 students in the district qualify for special education services.
In many districts, families are waiting to find out more about what in-person services their children will be able to receive.
The Tacoma school district laid off dozens of paraeducators this summer, saying their services were not needed if students were not back in school buildings full time. Now, the Tacoma district is starting the school year remotely, along with other districts in Pierce County.
Adrienne Stuart's 6-year-old son, Jack, has a congenital condition called Rett Syndrome. He uses a wheelchair and an eye-gaze device and relies on assistance from a paraeducator at school in Tacoma. Stuart is one of the plaintiffs that recently sued the Office of Superintendent of Public Instruction and the State Board of Education, arguing that students are being shortchanged a basic education during the pandemic.
With virtual school, "all of the burden of accessing a free appropriate public education falls to parents," Stuart said.
The people who normally work with her son at school include an educator, a paraeducator, a speech language pathologist, an occupational therapist and a physical therapist.
"If you say, OK, 'Well, we're just not going to do any of that. We're just going to put it online,' that just means I need to quit my job and sit there with him to help him access the education and replicate all of those jobs," she said.
Stuart said that if day care centers are allowed to be open, then there should be a way to bring students back to school for in-person instruction safely through providing enough personal protective equipment and strict hygiene practices.
"I think whatever barriers are in place now are artificial barriers," she said.
Dan Voelpel, a spokesperson for Tacoma Public Schools, said the district's student services department is reaching out to individual families to discuss options and is working toward bringing small groups of students to school for assistance.