Black educators share how they're talking about this moment in history with students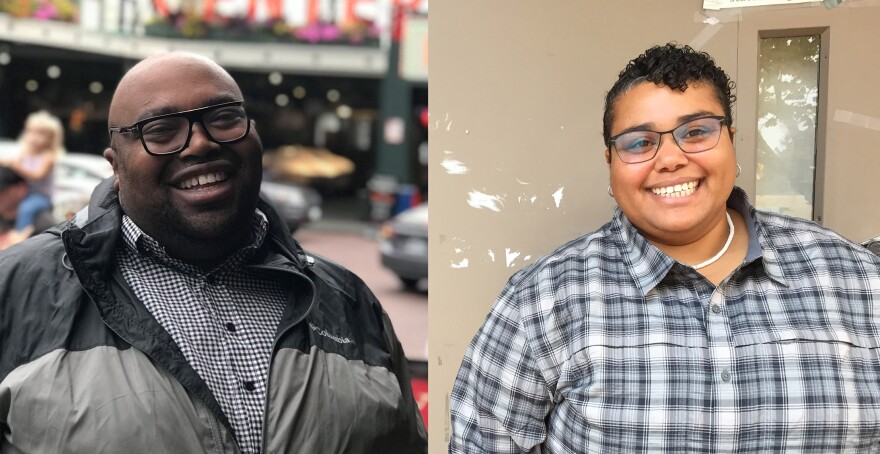 We're living in a unique moment in history. Outrage over systemic racism and police brutality has brought thousands of people to the streets. Even in this time of distance learning due to the pandemic, students and teachers are having rich conversations about injustice and racial inequity.
KNKX asked two Black educators to share how they're talking about this moment with their students.
Chimere Hackney teaches language arts and leadership at Franklin Pierce High School in Pierce County and Evin Shinn teaches language arts and social studies at Cleveland High School in Seattle.
Hackney said she wasn't sure at first how much to talk with her students about the killing of George Floyd by Minneapolis police, which was captured on video, and the resulting protests because she was concerned about getting "too political."
But her students took the lead.
"I woke up the next day to the longest emails I've ever received – especially student emails," she said. "But it's been hard not to be able to just give the soothing answers, because I don't know that there are soothing answers – yet."
Hackney described how one white student emailed to say she had wanted to be an ally to her Black friends and posted an image of a fist on social media, but then was told by some of her African-American friends that "this is not her fight." Hackney explained to her that some Black people will feel that way.
"Some people will feel that this is not about white people. Some people will feel like, 'Man, I am so disempowered in every other way. This is one way I can have power.' And some Black people will want to hold on to that," she said.
But at the same time, Hackney told her student that white people were the ones who built the racist system and should therefore be the ones to fix it. She said she recognized that it presented the student with a contradiction, but one that Hackney said she hoped would prompt critical thinking and reflection.
"As much as I want to assuage their anxieties, what's going to stick in the long run is the grappling they do," she said.
Evin Shinn said the video of Floyd's death brought up some new emotions.
"It was one of the first times I had seen myself in it," he said. "It started to become very real and very visceral."
He saw the outpouring of emotion and outrage across the country and started to realize: "It isn't just me who's feeling something, but now it is a lot of people feeling something."
So he took to Twitter and wrote, "There is no remote learning this week. The only assignment is stop racism."
He sat down and wrote an email to his students, exhorting them to follow the words of the Schuyler sisters in the musical, "Hamilton," and "look around" to see the revolution that's happening.
"You were born for this moment," he wrote. "How lucky and blessed we are to be alive right now to change the course of this nation."
Click on the audio above to listen to the complete story.