Since 2005, KNKX's School of Jazz has provided mentorship, learning and performance opportunities to Western Washington middle school, high school and college jazz students. A cornerstone of the station's signature community outreach program, it has directly impacted thousands of jazz students, band directors and professional musicians. School of Jazz is sponsored by BECU.
Hear how some regional jazz students are performing together in isolation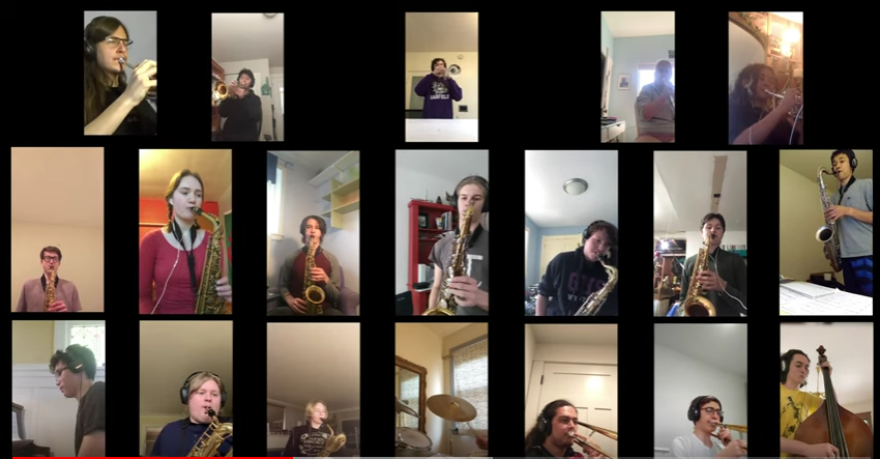 Musicians of all ages are demonstrating their creativity and resourcefulness while sheltering in place during COVID-19. Here's what some jazz students from regional middle school, high school and college music programs are doing to keep the music alive, and uplift us during these challenging times. If you are a jazz student or band director with digital content to share with KNKX, please contact Brenda Goldstein-Young at bgoldstein@knkx.org.
Here's some 2020 holiday cheer courtesy of the Bellevue High School Jazz Band under the direction of Edd George. It's their rendition of the "Overture" from Duke Ellington's Nutcracker Suite.
Upcoming KNKX student DJ Ryan Hsi plays piano in the Mercer Island High School Jazz Band under the direction of David Bentley. A combo with Ryan and his fellow students perform "It Could Happen to You," and "Green Dolphin Street."
Federal Way's Sequoyah Middle School Jazz Band under the direction of Chris Leslie, performs "The Summer Wind" and features vocalist Anna (8th grade) and 7th grader Jeremy doing the saxophone solo. ("The Summer Wind" was originally released in Germany in 1965 as "Der Sommerwind" by Heinz Meier with lyrics by Hans Bradtke. American lyricist, songwriter and singer Johnny Mercer reworked the lyrics into English.)
Seattle's Roosevelt High School Jazz Band perform "Magnolias Dripping with Molasses" from Duke Ellington's and Billy Strayhorn's 1946 Deep South Suite under the direction of Scott Brown.
" rel="noopener noreferrer" target="_blank">
Seattle Academy jazz band director Matt Frost submitted "Murder by Numbers," a song written by Sting and Andy Summers (The Police) performed by The Red Combo: Henry Roseman on piano, Calvin Lundin on drums and Tito Rios Viche on bass.
">
Seattle's Garfield High School Jazz Ensemble 1, under the direction of Jared Sessink, performs their rendition of "Blues Backstage" by Count Basie.
https://www.youtube.com/watch?v=2bgYCaootO4&feature=youtu.be
Tacoma's Bellarmine Preparatory School Jazz Band, under the direction of Casey Whitson, perform Sammy Nestico's "Queen Bee".
">
Federal Way's Decatur High School Virtual Sextet, under the direction of Jeff Chang, performs "Blue Monk" by Thelonius Monk.
Bothell High School's Vocal Jazz Choir (Jive) performs "Smile," music composed by Charlie Chaplin.
Central Washington University Jazz Band 1, under the direction of Chris Bruya, sent us some songs that were performed by the students at their last home concert before COVID-19. Enjoy Wayne Shorter's "Black Nile" and "Along Came Betty" penned by Benny Golson.
https://www.youtube.com/watch?v=rNIddniHIn0&feature=youtu.be
Seattle's Washington Middle School Jazz Band sent us these two terrific videos. The first is "When You're Smiling" arranged by Tom Kubis; the second is "Tall Cotton" by Sammy Nestico. The band is under the direction of Michael Sundt.

Multi-instrumentalist Nic Lofgren just graduated from Bainbridge High School. He was the KNKX student DJ in March of this year. Here are two original songs performed by the Nic Lofgren Quartet with Nic on clarinet. The first is "Stringbean" and the second is "Spring Queen."