Since 2005, School of Jazz has demonstrated a commitment to jazz education; in fact, it's one of the cornerstones of KNKX's mission as the station's signature community outreach program. School of Jazz provides mentorship, learning and performance opportunities to Western Washington middle school, high school and college jazz students. Since its inception, School of Jazz has directly impacted over 3,000 jazz students, band directors and professional musicians.
Decatur High School Jazz Combo — Custom Made For KNKX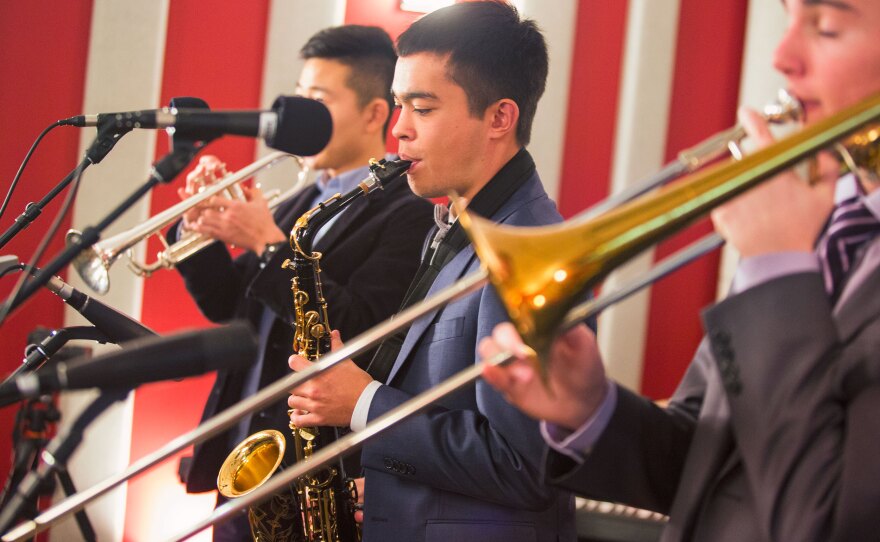 Until very recently, Decatur High School in Federal Way didn't have a jazz combo. What they had was a full jazz big band. When knkx put out the call to regional school jazz programs to send us demo tapes so we could select groups for live studio sessions, Decatur's band director, Jeff Chang, recorded the big band and sent it in.
We liked it, but had to tell Mr. Chang that our performance space is too small to accommodate a group of that size. So Mr. Chang and his students decided to put together a combo with mentor and bassist, Wayne Bliss, and try again. And, man, did they ever pass that audition.
The three-song set you're about to hear ranks high among our favorite School of Jazz studio sessions. Thanks, Decatur, for hangin' in there.
https://youtu.be/qqWA_yeB2IA","_id":"0000017a-8d1e-d4f4-a97b-af3fa93e0000","_type":"035d81d3-5be2-3ed2-bc8a-6da208e0d9e2"}">https://youtu.be/qqWA_yeB2IA">https://youtu.be/qqWA_yeB2IA","_id":"0000017a-8d1e-d4f4-a97b-af3fa93e0000","_type":"035d81d3-5be2-3ed2-bc8a-6da208e0d9e2"}">https://youtu.be/qqWA_yeB2IA
https://youtu.be/lMrIUHFcgdg","_id":"0000017a-8d1e-d4f4-a97b-af3fa93e0004","_type":"035d81d3-5be2-3ed2-bc8a-6da208e0d9e2"}">https://youtu.be/lMrIUHFcgdg">https://youtu.be/lMrIUHFcgdg","_id":"0000017a-8d1e-d4f4-a97b-af3fa93e0004","_type":"035d81d3-5be2-3ed2-bc8a-6da208e0d9e2"}">https://youtu.be/lMrIUHFcgdg
https://youtu.be/C3WY8yPcsxI","_id":"0000017a-8d1e-d4f4-a97b-af3fa93e0008","_type":"035d81d3-5be2-3ed2-bc8a-6da208e0d9e2"}">https://youtu.be/C3WY8yPcsxI">https://youtu.be/C3WY8yPcsxI","_id":"0000017a-8d1e-d4f4-a97b-af3fa93e0008","_type":"035d81d3-5be2-3ed2-bc8a-6da208e0d9e2"}">https://youtu.be/C3WY8yPcsxI
The Band:
Tony Choi (Trumpet), Danny Klein (Alto Saxophone), David Frye (Trombone), Lyla Klein (Keyboard), Gavin Wilson (Bass), Daniel Hackett (Drums)
Other:
Mary McCann (Host), John Kessler (Engineer)