Should Seattle vote on NBA arena? Port calls it a 'job killer'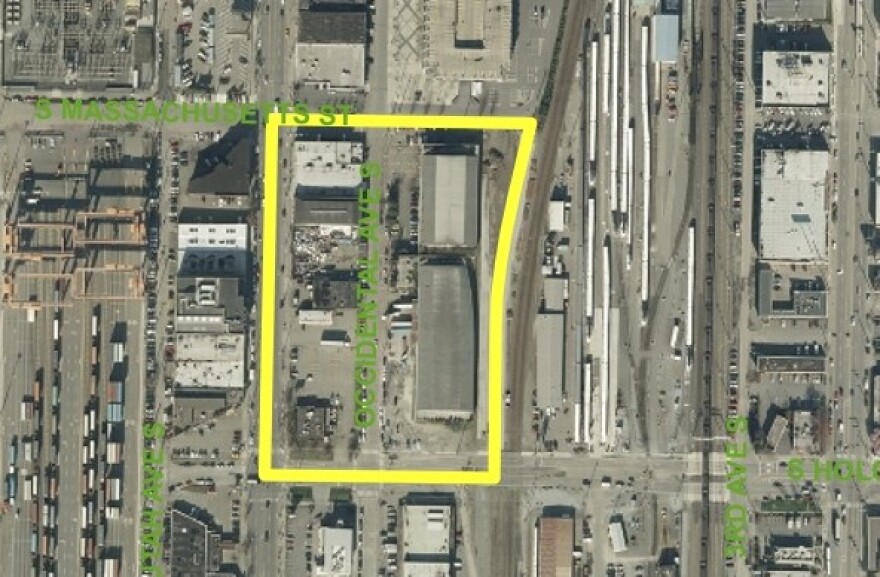 Port officials say placing a new sports arena in Seattle's SoDo neighborhood without significant transportation improvements would be a "job killer." And one King County councilman wondered if area residents shouldn't vote on the idea.
Investor Chris Hansen is working on a deal with King County and City of Seattle for an arena near the Mariners and Seahawks stadiums that could host NBA and NHL franchises. But business and labor groups oppose that idea, saying a new stadium would exacerbate traffic problems in the industrial area south of downtown.
King County Councilman Pete von Reichbauer asked Hansen if he thought the idea should be put up for a vote.
Hansen said he hoped the council would decide rather than putting it on the ballot. However, he added:
"If you choose to vote no because you think your constituency should, you know, (be able to vote on it) that's your job as a politician. I'm not here to tell you that's not what you should do."
Traffic fears
Port of Seattle Commissioner Tom Albro told the King County Council on Tuesday that a third stadium would be a "job killer" unless a lot of money is spent mitigating the impact of a new facility. Albro said he's not opposed to bringing the NBA back to Seattle, but other locations should be considered.
"Basketball, good. That siting, without massive mitigation, bad," Albro said. "Siting an arena there is a job killer for us."
County Councilman Larry Gossett pushed back against Albro's claim that a new SoDo arena would cost jobs.
"I don't know how you can already be able to make that prediction, when in fact traffic mitigation has already been looked at by the city ... nothing remotely suggests that the building of a stadium in SoDo would be massively bad for our community," Gossett said.
(Below is an aerial photo of where the new arena would be built.)
Tay Yoshitani, chief executive officer of the port, told the council's transportation panel that large regional companies like Boeing and Weyerhaeuser depend on the Port of Seattle to get their products to market. Yoshitani said there are already 7,000 daily truck trips to Seattle terminals, rail yards and distribution centers. That could jump to more than 11,000 daily trips as the port expands, he said.
"Our ask is that you please consider all these issues carefully, because we believe a lot is at stake," Yoshitani said.
Hansen's response to the Port's concerns published on the proposed arena's website:
Over the past several months there has been a lot of discussion about the Arena's potential impact on traffic. In an effort to understand the issue, we funded a detailed independent analysis of the traffic and parking situation in the SODO area, which concluded that the impact on traffic and parking in the area would be manageable. The major points behind this thesis were that there was adequate parking in the area as a result of the inventory built to accommodate the larger Mariners and Seahawks/Sounders crowds, the date overlap with Safeco and CenturyLink events would be minimal and manageable, and, most importantly, that Arena patrons would tend to arrive well after Terminal 46 and 30's scheduled 4:30 pm closing time, minimizing the impact on Port and industrial traffic. Despite the findings, several constituencies have derided the results as inaccurate, and claimed that as with Mariners games, Arena traffic will begin arriving as early as 3 pm, thus stifling SODO traffic from 3-5 pm while the Port is still open. While such critics have yet to provide any substantive, independent analysis of their own to support such a point of view, common sense would tell us that people are simply not going to arrive at 3-4 pm for an Arena event that starts after 7 pm. On the contrary, we believe most of our customers are at work until at least 5 pm. But equally important is the fact that the Arena will not even open its doors to the public until 6 pm for weekday NBA and NHL games and most concerts. While some may choose to come to the area early for a drink or a bite to eat, most Arena patrons are in a rush to make tip-off/face-off and arrive just prior to game time — a fact that is clearly evidenced by a simple glance at the stands of an NBA or NHL game for the first half of the first period. Thus the assumption that all of our patrons and their 6,000 vehicles will descend on the Arena site between 3-5 pm is just grossly inaccurate. And while we are certainly comfortable with leaving this point to the court of public opinion, we are also comfortable with the truth. As you can see above and on the traffic section of our site, SDOT has recently begun broadcasting live traffic cameras in the Seattle area that are updated in real time. A link can also be found here, where several other cameras in the area can be found. I would encourage everyone in the city to have a look at these cameras from 3-5 pm on Mariners game days and judge the traffic conditions for themselves. I would also encourage people to look throughout the evening, including between 6:30-7:30 pm when we believe most of our patrons would be arriving (and after the Port is closed), as well as after 9:30 pm when Arena events would be winding down. Thanks for your continued support, and see you all on Thursday! — Chris Hansen
(McGinn's vision of the deal.)
KOMO's Ken Schram on Sonics Arena