Final meeting tonight on Metro's proposed $20 tab fee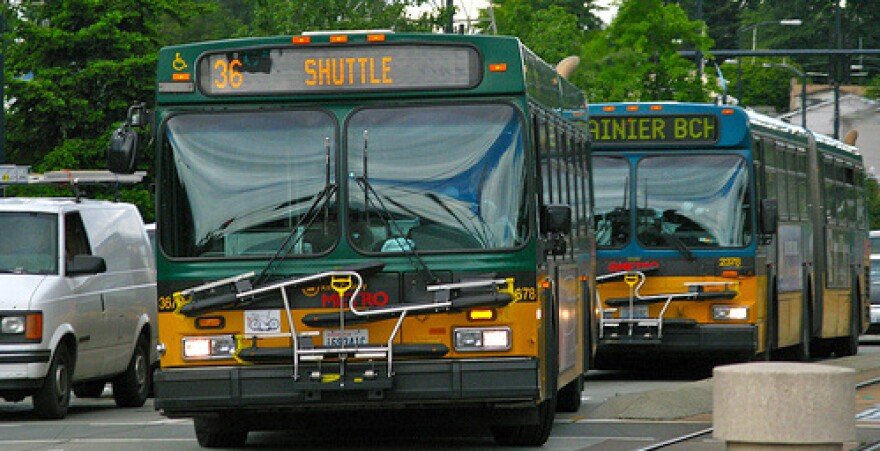 So far, the meetings on Metro Transit's proposal to raise car tab fees by $20 or cut 17 percent of bus services have been packed with lines going around the block. Tonight you have another chance to be heard: The meeting starts at 6 p.m. in the Burien City Council Chambers, 400 S.W. 152nd Street.
Last week, among those turning out to voice support for the fee and to weigh in against service cuts were college students who said a cut in service could result in students dropping out.
"Those people who don't live on campus and have to continue to live with their parents and rely on the U-Pass as their method to get to school, they're going to be impacted by this very deeply. And that's going to be bad not only for their academic future, it's going to be bad for our region's economy," Andrew Lewis, head of Government Relations for the Associated Students of the University of Washington, testified.
Democrats favor the temporary tax, it would be in place for two years, as a way to preserve Metro bus service. Without the fee, they point out, bus service will be cut back to 1996 levels. Republicans on the council have said they oppose raising car tab fees without a vote of the people
Metro's pitch:
Riders took more than 109 million trips on Metro buses in 2010—more than 360,000 rides every weekday—and ridership has been going up.
Over half the people who ride Metro buses are going to their jobs.
Transit eases traffic congestion. On average, Metro's buses carry the equivalent of 7 lanes of traffic on state highways in peak commuting hours.
Transit helps reduce greenhouse-gas emissions.
Buses and Access vans are critical for people with low incomes or limited mobility.
On the Web: