Since 2005, KNKX's School of Jazz has provided mentorship, learning and performance opportunities to Western Washington middle school, high school and college jazz students. A cornerstone of the station's signature community outreach program, it has directly impacted thousands of jazz students, band directors and professional musicians. School of Jazz is sponsored by BECU.
KNKX Student DJ Anna Aptacy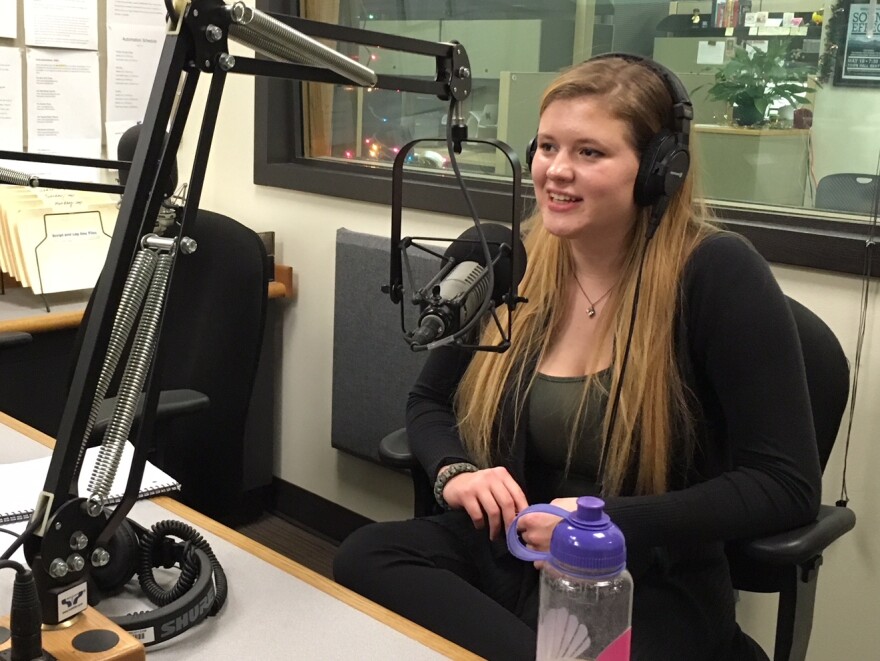 Seventeen year-old Marianna (Anna) Aptacy attends Bellevue High School. She shares an hour of her favorite jazz Thursday, January 4 from 8-9 p.m. on KNKX's Evening Jazz with Abe Beeson.
Which instrument do you play and why?
I chose to play the tenor saxophone because after playing the clarinet in 5th grade I disliked the high pitch and the delicate tone the instrument gives. My mom said I should switch to the saxophone because of jazz. At first, I was skeptical of switching to a new instrument but after playing the tenor sax for about two seconds I was in love. I loved how it was dark yet bright, and it was an instrument that no girl played in my school so I felt as if it was my duty to play it.
What's your all-time favorite jazz piece?
If I absolutely had to choose, I would say my all-time favorite jazz piece is "Watermelon Man" by Herbie Hancock because I love the groove of it and it's a lot of fun to solo over. It was one of the first songs I improvised on and just by listening to this song you can learn so much about jazz improvisation, no matter what instrument you play. It has an incredible balance through it and it has inspired many of my compositions.
Who is your jazz hero?
Roxy Coss is my jazz hero because I met her when I was first starting out in jazz in middle school and she inspired me to keep playing. Back when I first started in jazz, I loved playing songs with my band but I disliked practicing; I had never felt enough motivation to enhance my skills. But, then after I met Roxy Coss and listened to the marvelous sound she has, I was very much inspired and I wanted to sound just as good as her someday, and still do.
Why jazz?
Jazz has always been in my life. At first, I didn't even recognize it. My parents loved jazz and had a jazz band play at their wedding. Every one of my favorite movies as a kid had jazz soundtracks. And I would dance to jazz with my family. I had been influenced by jazz from the start. When it came to the time when I had to focus on either jazz or classical music, I chose jazz because of the freedom it gives, the dance-enticing groove, and the joy it brings when you play. It is also able to give you gut-wrenching emotions and chills. Not only that but also the captivating beauty of finding jazz elements everywhere in all mediums.
Anna's playlist for January 4, 8-9 p.m.:
"Satellite" - John Coltrane
"Body and Soul" - Coleman Hawkins
"If You Could See Me Now" - Sarah Vaughan
"Cheesecake" - Dexter Gordon
"La Fiesta" - Stan Getz
"Rocks In My Bed" - Ella Fitzgerald
"Watermelon Man" - Herbie Hancock
"Splanky" - Count Basie
"In a Sentimental Mood" - Duke Ellington/John Coltrane
"Infant Eyes" - Wayne Shorter