What's Blocking Bertha? Probably A Steel Pipe The State Put There, WSDOT Says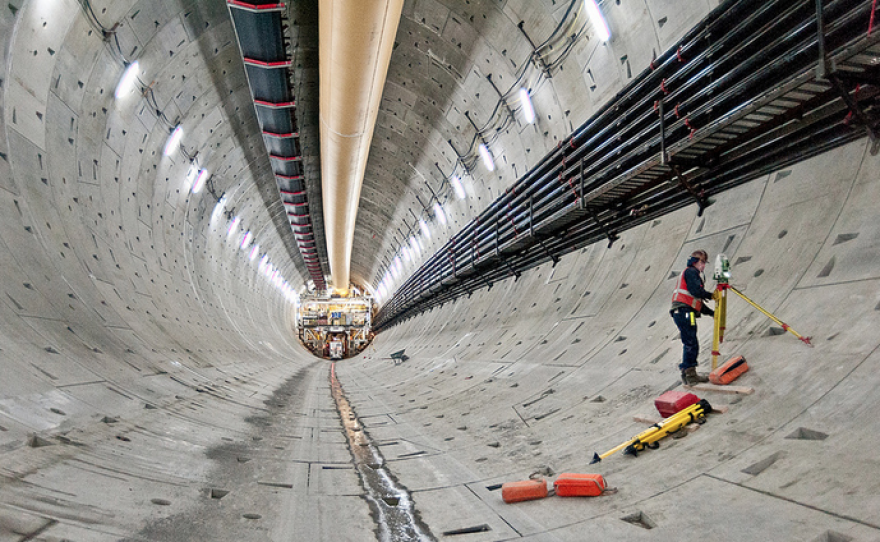 A steel pipe that the state Department of Transportation itself had installed back in 2002 sits in the way of Bertha underneath Seattle, WSDOT said on Friday, and it may be the cause of the weeks-long work stoppage.
An inspection on Jan. 2 "showed an 8-inch-diameter steel pipe protruding through one of the many openings in the cutterhead," WSDOT said, adding the agency had installed the pipe, a well casing, in the wake of the 2001 Nisqually quake to better understand groundwater flow.
Whose Oversight?
"The location of this pipe was included in reference materials in the contract," said WSDOT. However, contractor Seattle Tunnel Partners said the pipe's location came as "a surprise."
The contractor claimed Department of Ecology rules require that such pipes be removed upon decommission of wells. But a spokesperson for the department said rules only require that casings for decommissioned wells are properly perforated and filled.
"There is no rule that [says] all well casings have to be removed," said Department of Ecology spokesperson William Lum.
Both WSDOT officials and the contractor declined to elaborate.
Bertha Powerless Against Thick Metal
The pipe first poked out of the ground 6 or 7 feet two days before Bertha ground to a halt on Dec. 6. Seattle Tunnel Partners project manager Chris Dixon said the pipe likely got twisted into Bertha's cutting face and eventually paralyzed the machine.
"The fact that the machine performed very well for two days after that led us to, I guess, a false sense of security," said Dixon.
WSDOT said low water pressure on Thursday allowed crews to remove enough soil to reveal the blockage.
Bertha, an $80 million equipment and the biggest boring machine in the world, can blast through rock, timber and compressed soil; however, it cannot drill through thick metal, officials said.
In addition to the pipe, other objects not yet within view may be contributing to the blockage, the agency said Friday, as crews had only examined the top 15 feet of a hole nearly 60 feet deep. Crews were weighing several options to dig deeper into the excavation chamber and remove the blockage.
"It's too early to speculate about the cost or long-term schedule implications of this issue," WSDOT said. "Our focus is now on addressing this issue safely and in a timely manner so we can resume tunneling as soon as possible."
Bertha is working to drill a tunnel nearly two miles long in Seattle by the end of 2015, creating a four-lane replacement for the Alaskan Way Viaduct on Highway 99.